Our AirAsia Hot Seat experience back to Chiang Mai confirmed everything we had learned about the airline: hot seats are a great way to add some affordable luxury to your flight!
Part 1: Deciding on Kuala Lumpur – Click Here
Part 2: AirAsia Hot Seats Experience Chiang Mai to Kuala Lumpur.
Part 3: Visiting Batu Caves and Petronas Towers.
Part 4: AirAsia Hot Seats Kuala Lumpur to Chiang Mai. This Post.
A Morning Alarm and a Long and Winding Road
Our AirAsia flight back to Chiang Mai from Kuala Lumpur was at 12:45pm.
This meant setting a morning alarm for the first time in over a month. An EARLY alarm. At 9am.
I know what you are thinking: 'Matt, 9am is NOT early!' Well, it is for us! We usually get up after 10am. So when the alarm went off in the morning it was a jarring and disorienting experience.
I made some keto bulletproof tea for the road – Lisa had procured some venti to-go cups from a local Starbucks the night before and they cost her nothing more than a smile and a little flirting – and summoned a Grab (Uber for Asia).
KUL airport is a LONG way from the city – about an hour drive. The Internet tells you that you should probably take the train to the airport from Sentral station. But we had learned that when it comes to trains in KL, THE INTERNET IS A LIAR!
So anyway, the Grab arrives and off we go.
After a few minutes driving the driver wants to confirm that we want Terminal 1.
GREAT QUESTION!
I had failed to figure out or remember which terminal AirAsia was in so just guessed (yes, stupid and lazy move!). He pointed out that I had guessed wrong: AirAsia is in Terminal 2 at KUL.
And apparently this is a Heathrow-type of situation where the terminals are miles apart so I had to update the destination on the Grab app and suddenly the price went up about $7US.
Oh well, at least we got that sorted early on.
An hour or so later we were at KUL.
Wondering how we find cheap coach and business class flights? Check out our Cheap Fare Guides:

How To Use Google Flights to Find Cheap Business Class Flights (And Cheap Economy Flights Too!)
AirAsia Hot Seats Check-In at KUL
Our check-in experience at KUL was far easier and less traumatic than at Chiang Mai airport.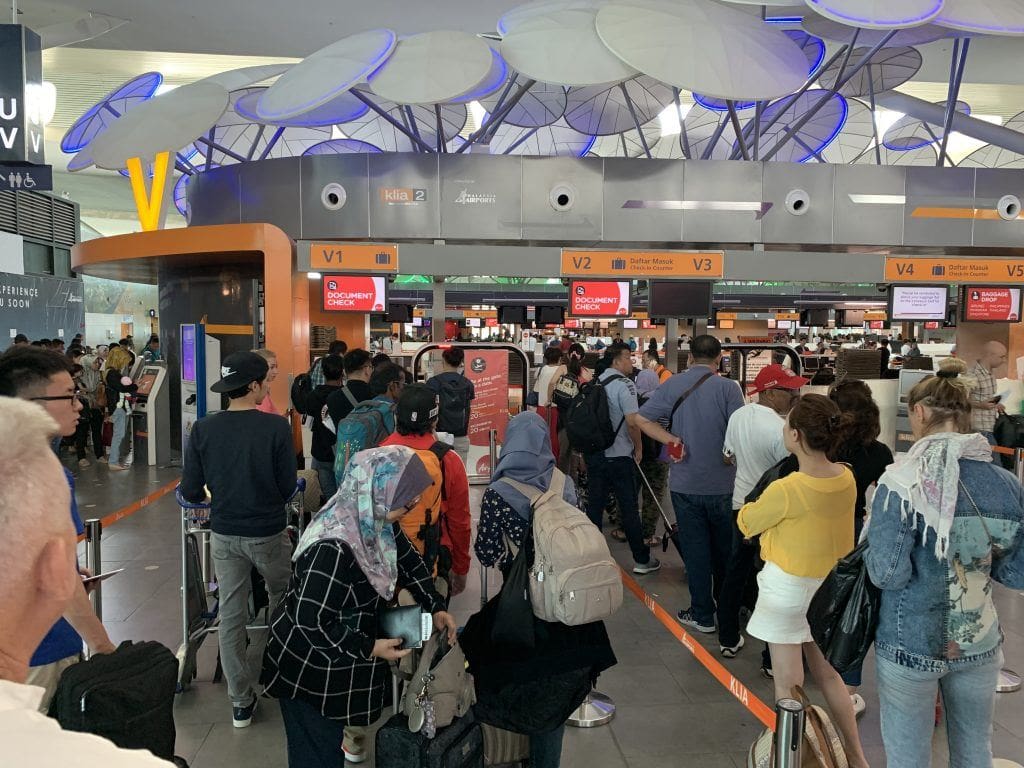 I had managed to print our boarding passes at a DHL store in the Petronas Towers mall the day before WITH barcode intact, so we really just needed a doc check.
At the AirAsia check-in area there was one big long, long queue that people got in to be directed to the correct window (checked luggage, check-in only, etc) within a roped-off area.
But we spied a window that said 'document check' to the side in the roped off area.
So we committed a 'travel hack' and ducked under the rope and got directly in the short queue at the 'document check' window without waiting in the infinitely longer queue for the agent to tell us to get in that line.
Soon enough our printed boarding passes had been replaced with AirAsia boarding passes and had been dutifully stamped as doc-checked. We headed to our gate.
AirAsia KUL L Gates: 'L' Stands for Lack of Food – or Even Water!
We cleared immigration relatively quickly and made our way to the T2 L gates. This little set of gates has its own security.
But once through security there is only a coffee shop for refreshments. And the only food they serve are pastries and sandwiches and for drinks they sell only coffee and tea…no water!
But we have learned to be keto-adaptable. We bought a couple of lunch meat sandwiches: take the meat, leave the bread.
Our gate was L8 but our plane was on time (think about it for a second!). 🙂
AirAsia Hot Seats Boarding and Flight
Ok, actually the flight was slightly delayed due to late arriving aircraft.
Our Hot Seats meant priority boarding again.
In this case it just meant we had to wait on the jet bridge while the flight attendants finished cleaning the aircraft from the tight aircraft turn.
So Lisa took the opportunity to snap a picture of me and then tease me on Facebook:
We boarded and made our way to the exit row.
On this flight I really felt bad for the German woman sitting behind me.
She was…um…what's a nice way to say it…large.
She was really wedged into the not-Hot Seat (Cold Seat?) in row 15.
About an hour into the flight she asked the flight attendant how one could procure a Hot Seat in the exit row.
He told her that Hot Seats are for sale at ticket purchase or check-in and that there is a fee.
She asked if she could pay him the fee and move to the empty exit row across from us.
His answer, sadly for her, was no.
Again: if you are going to fly AirAsia and want to be comfortable I highly recommend throwing $10 – $15 US at a Hot Seat for some affordable luxury.
Our pre-ordered meal came and was basically the same meal as on the outbound but with a slightly different flavor on the chicken.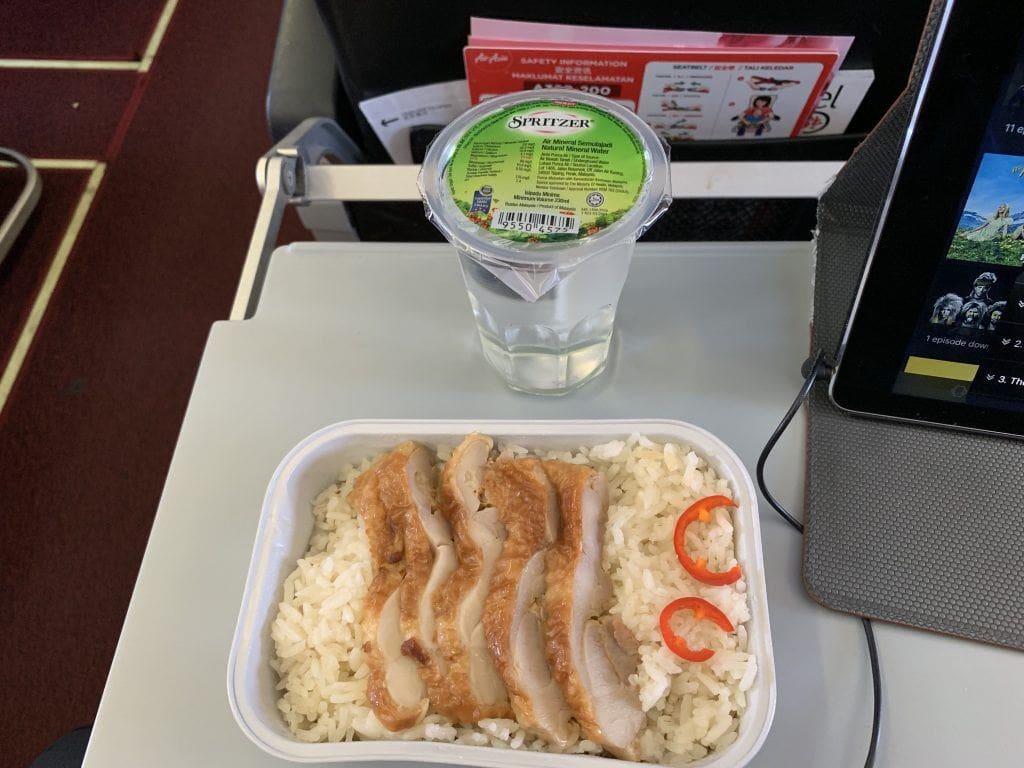 A few hours later we were back in Chiang Mai and had our new Thai visa waivers.
Bottom Line
I'm really glad we took this trip to KL. Lisa and I were both excited for some travel and despite the heat, humidity and heights in KL we had a great time.
And by planning ahead and taking advantage of Hot Seats and pre-ordered meals (or buying the packaged Premium Flex upgrade) AirAsia can rival boutique airline Bangkok Airways in terms of overall experience.
Affordable luxury on discount carrier AirAsia? Yep!
Part 1: Deciding on Kuala Lumpur – Click Here
Part 2: AirAsia Hot Seats Experience Chiang Mai to Kuala Lumpur.
Part 3: Visiting Batu Caves and Petronas Towers.
Part 4: AirAsia Hot Seats Kuala Lumpur to Chiang Mai. This Post.