Things to do on a quick trip to Kuala Lumpur?
Visit the Batu Caves and Petronas Towers.
Have a lot of fun dining out on keto diet Malaysian keto diet meals in Bukit Bintang.
Use Grab instead of public transport!
Part 1: How Thai Visa Waivers Got us to Kuala Lumpur – Click Here
Part 2: AirAsia Hot Seats experience Chiang Mai to Kuala Lumpur – Click Here
Part 3: What to do in Kuala Lumpur for 48 hours. This Post!
Part 4: AirAsia Hot Seats Kuala Lumpur to Chiang Mai. Click Here
Where to Stay in Kuala Lumpur for Affordable Luxury Travel?
We stayed in a homestay flat at the Dorsett Residences directly adjacent to the Dorsett Hotel in the very happening Bukit Bintang area of Kuala Lumpur.
For $40 US/night we got a lovely flat with a balcony view of the Petronas Towers as well as a rooftop infinity pool with same view. That's a classic example of affordable luxury travel!
We arrived at our AirBnB around 9pm…starving!
We dropped our small bags off and set out walking.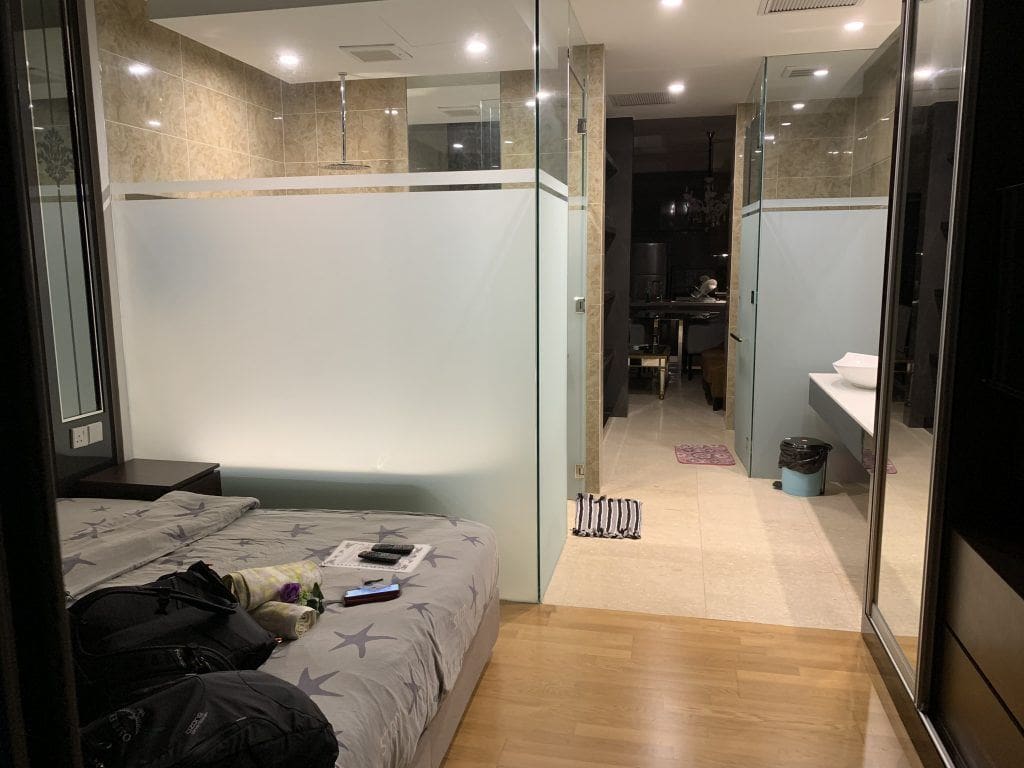 First Night Dinner – Opium Restaurant
The first thing you notice about KL is that it's hot.
Like SUPER hot. And humid.
Soooo humid. Mississippi in August humid.
Swimming through the humidity, we made our way down Bukit Bintang Street.
We passed all the fancy luxury places: Pavillion Mall, the Ritz Carlton, the Westin, the JW Marriott, and on and on.
Along the way we also passed approximately 21,937 foot massage places with employees out front aggressively offering their services.
We made a right onto Changkat Bukit Bintang. This is the 'It' scene in KL.
Restaurants, clubs, bars and cafes…all crammed into about a 1 km stretch of road.
This time it was very aggressive restaurant, club and bar employees begging us to partake.
We headed to Opium, a restaurant I had found online that looked good. It was! And it had lots of keto diet Malaysian options like grilled meat and fish.
On our walk home after midnight it rained. Hard.
It was the first rain we had seen for over a month. We enjoyed it.
Things to do in Kuala Lumpur: Sightseeing in Kuala Lumpur
The next day was touring day.
Breakfast
We started with breakfast at Pavillion Mall.
The food court there is famous…and for cause. We had some really spectacular keto diet bibimbap.
Getting to and from Batu Caves
Our first destination was Batu Caves, probably the most famous site in Kuala Lumpur.
We made the mistake of believing the Internet which said taking the train to Batu Caves was the best and most 'authentic' way to get there. Sigh.
So we took a subway to an el to the Sentral Train Station.
From there it was one more train to Batu Caves. A slooooow train.
In the end it took us nearly 2 hours to get the 7.8 miles from downtown to Batu Caves.
The Internet is full of LIES, people! Vicious, pernicious LIES!
For the record, we took a Grab (Uber for Asia) from the Caves back to Petronas Towers.
THAT trip took under 16 minutes.
Don't trust the Internet, dear readers! Trust ME! Screw all those trains!
Take a Grab to and from the Batu Caves!
You'll be happier and get a touch of affordable luxury!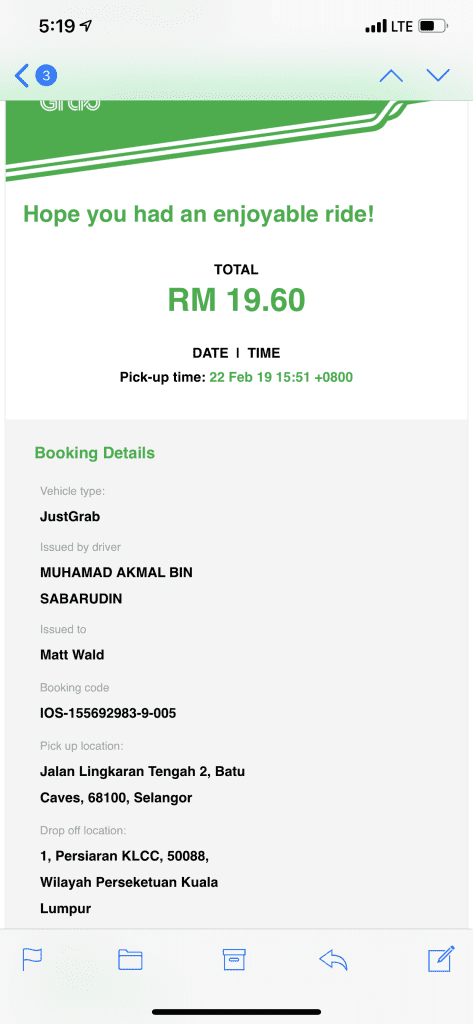 Batu Caves Experience
The Batu Caves are…well…at first a little underwhelming…
But then we saw monkeys! I LOVE monkeys!
Lisa is terrified of them.
Pretty soon we understood what all the fuss is about!
Now let's be clear: I am terrified of heights (other than in an airplane).
But I am also a TRAVELER.
So a little (lot) of acrophobia wasn't going to keep me from climbing the very colorful 272 steps to the caves. In the heat. And humidity.
Luckily I had friends rooting for me:
Eventually, we made it. I was shaking.
Lisa was thrilled:
The climb was, as it turned out, worth it:
Honestly it reminded me of the final scene from Raiders of the Lost Ark.
Except for the whole melty-facey thing…DON'T LOOK, MARION!!!
After touring for a bit we made our way back down the stairs.
I wish I could say I was brave.
That it was no big deal.
But between my (still) slightly wonky ankle and my fear of heights, well…later Lisa said "Dude, I didn't want to say anything at the time, but when I looked over at you on the way down those stairs the look on your face was sheer terror."
Thanks, BAE!
Whatever.
Anyway, as mentioned above, rather than wasting another 2 hours on trains we took a Grab to Petronas Towers.
Petronas Towers
I was pretty excited to check out Petronas Towers even though I wasn't quite sure what to expect.
Turns out it's a mall:
We went to check out the 'Petronas Towers Experience'…which includes lots of fun with extreme heights!
High floors! High elevators! High crossing from tower to tower!
But it was sold out until the next day. I was SO SO SAD!!!! And relieved.
Swimming and Dinner
As I have said, it is hot and humid in KL.
So we made our way back to the Dorsett Residences for some pool time.
And that night we wandered back to Changkat Bukit Bintang where we had keto diet steaks at Rockaway which was sort of a steakhouse on the porch. But definitely a thumping nightclub inside.
We were exhausted from the combination of climbing, swimming and (for me) sheer terror.
So we headed back to the Dorsett Residences and crashed for the night.
That night we set an alarm for the first time in over a month.
We had a plane to catch the next day…
Bottom Line – Things to do in Kuala Lumpur
We found Kuala Lumpur to be an excellent affordable luxury destination. And we found plenty of keto diet meals.
The lodging, food and transportation were all top notch yet affordable. The only exception is alcohol which is heavily taxed in Muslim Malaysia.
And the Batu Caves are a true wonder to behold!
Part 1: How Thai Visa Waivers Got us to Kuala Lumpur – Click Here
Part 2: AirAsia Hot Seats experience Chiang Mai to Kuala Lumpur – Click Here
Part 3: What to do in Kuala Lumpur for 48 hours . This Post.
Part 4: AirAsia Hot Seats Kuala Lumpur to Chiang Mai. Click Here