What to do in Berlin, Germany for two days? German beer, Brandenburg Gate, The Wall, Checkpoint Charlie and…a dentist…twice!
Berlin was the first stop in a plan Lisa laid out to spend 2 weeks exploring Germany and Poland with her parents.
We arrived in Berlin Germany on a Lufthansa Business class flight from Philadelphia via Frankfurt. We took a taxi to our homestay where we were met with this lovely greeting:
This was Jake and Marlene's first redeye transatlantic flight, so they got introduced to the dreaded 'morning fog' arrival in Europe where your head feels like it is going to float away from your body and pop like a balloon.
So everyone promptly took good long nap!
Where to Stay in Berlin, Germany for Two Days for Affordable Upscale
We had a number of specific lodging requirements traveling with Lisa's parents.
We wanted as few stairs as possible. So we wanted ground floor for the most part.
As always, we wanted flats or hotels that are upscale but affordable.
So in Berlin we settled on the Moabit area – slightly west of the center of the city.
The area has walkable restaurants and is an easy uber to the sites in center city.
And it was far less expensive than places in the center.
We chose Berlinlofts…and stayed in the Blacksmith Workshop Apartment which has two bedrooms on two floors.
Sightseeing in Berlin, Germany for Two Days
Brandenburg Gate
Since it was built in 1791, the Brandenburg Gate has been a go-to site for major historical events in Prussian and German History.
Today it is considered to be a symbol of the tumultuous history of Europe and Germany.
But also, more recently, of European unity and peace.
Napoleon Rides Through the Gate

Nazis March Through the Gate

The Gate in 1945

The Gate During the Cold War (Berlin Wall in Foreground)

Reagan at the Gate: 'Tear Down This Wall'
But then the coolest thing in the history of the Brandenburg gate happened: Jake and Marlene graced it with their presence!
The Berlin Wall
Of course, no visit to Berlin is complete without taking some time to visit the remnants of – and reflect on – the Berlin Wall.
The iconic literal barrier between east and west, the division of Germany, the confinement of a people. The Berlin Wall was the very symbol of the Cold War.
Today there are a few ways to see remnants of the wall itself.
A couple years earlier Lisa and I visited the small piece of wall that still stands near Checkpoint Charlie. But that sample doesn't provide much perspective.
So this time we took Lisa's parents to the Berlin Wall Memorial so we could appreciate the full perspective of what the Wall was.
We also visited the documentation centre across the street. It has interesting exhibitions about the wall, its history and the people it separated.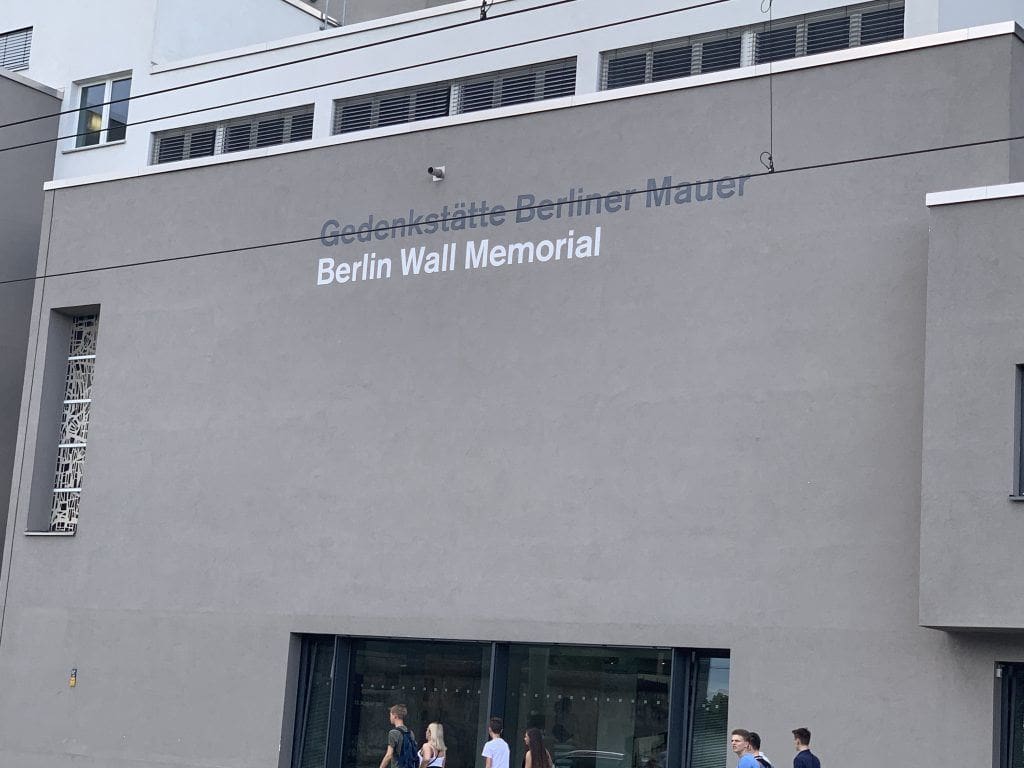 The building includes a five-story observation tower that I climbed.
This photo and video give the full perspective of the Berlin Wall, including guard towers and the infamous No Mans Land.
I'm still amazed at how crazy it was that the East Germans put up a wall to keep people from fleeing.
For the record, the wall didn't work. People found plenty of ways under, over and through it. Just sayin'!
Checkpoint Charlie
Speaking of Checkpoint Charlie, after our dentist visits (more on that in a minute!) we ran out of time to take a close look at Checkpoint Charlie, the Cold War American crossing point.
So we settled for a drive-by!
As noted, Lisa and I visited Checkpoint Charlie before. It's not much to see.
So we carried on.
Food and Beer and Conversation in Berlin
By far the most enjoyable part of our time in Berlin was spending time with Jake and Marlene. Over lunch. Over dinner. But mostly over German beer!!
German Food
Lisa and I were easily able to keep up our keto way of eating in Berlin. Sausages, pork, salads, steaks…we were in low carb nirvana!
Marlene and Jake are less concerned about carby food, and so many schnitzels were consumed!
German Beer
But keto went out the window once Jake and I started toasting over some German pilsner. And then some more. And then still more.
But then Marlene decided to get in on the action! We knew that all bets were off!
Both Jake and Marlene discovered what so many Americans do when they try German beer for the first time: American beer is CRAP!
German pils and lager is just so much more smooth and flavorful than mass-produced American beers (I'm looking at you, Miller and Bud!). There is no bitter aftertaste…just a smooth, creamy delight.
We all liked it so much that on our second night in Berlin we went to a beer hall/tavern for dinner and more German beer!
Conversation
We enjoyed the food. We drank the beer. And we talked. A LOT!
Lisa's mom and dad are such incredibly interesting people…even though I have known them for 10 years – and Lisa for a bit longer than that! – we both learned new things from our conversations.
Like most happily retired people they are just as busy now as they were working – or maybe more so. We talked about how much they love being able to spend so much time with their grandkids (the ones we flew halfway around the world to see dance and play baseball), about their social lives including being very active in their local parish and about what they've been up to for the past 6 months.
And then Marlene told some hilarious stories about the time when she dated a 'bad boy' in high school called Jake…and then we got to hear those same stories but from Jake's perspective!
German sausage, German beer and amazing conversation are what Lisa and I will always think about from our time with her parents in Berlin.
Visiting the Dentist in Berlin, Germany
Yeah. So. I mentioned that Jake started to have some dental issues on our flight from Frankfurt to Berlin.
We decided to have a dentist check it out in Berlin before heading down to smaller cities and towns in Germany and Poland.
Finding an English-speaking dentist in Berlin was relatively easy thanks to the Google.
So we made an appointment for that afternoon and headed over.
The office was a model of German cleanliness and efficiency. Jake was taken back, looked at, treated and we were sent on our way.
And the bill for the visit was so reasonable that we just paid in cash.
Unfortunately, that night the novacaine wore off. And Jake was in pretty bad pain.
So the next day we went back and they provided a more permanent fix to the situation.
In the end the dentist patched up Jake's tooth. At least enough so that it only bothered him a little for the rest of the trip.
We were all just relieved that we addressed the issue. And that Jake didn't have any more pain!
Bottom Line: Two Days in Berlin, Germany
Berlin is an amazing place to spend a couple of days. So much history.
But as I say above, for Lisa and me our time in Berlin will always be about the time we spent and the conversations we had with her parents! They are priceless memories.
And we still had so much time together. Because it was time to pick up our rented Mercedes wagon and head down to Cottbus, Germany!