Considering being a digital nomad in Romania? Consider Cluj, Romania.
In recent years, the charming city of Cluj, Romania – located in the heart of Transylvania, Romania – has emerged as a popular choice for digital nomads for a few weeks or even months.
With its vibrant culture, affordable cost of living, and fast internet speed, Cluj presents an inviting environment for digital nomads. In this article, we explore the life of a digital nomad in Cluj, Romania.
Digital Nomadism and University Vibes in Cluj
An essential aspect of Cluj's charm is that it is a prominent university city. Home to some of Romania's most prestigious universities, such as Babes-Bolyai University, Technical University of Cluj-Napoca, and the University of Medicine and Pharmacy, Cluj draws a young, international crowd, making it a vibrant and cosmopolitan city.
This university culture significantly influences the city's social and cultural fabric, making it an exciting place for digital nomads.
Here's how:
Youthful Energy and Innovation
With students comprising nearly a quarter of the city's population, Cluj emanates a youthful, dynamic energy that's hard to miss. The city buzzes with innovation and creativity, reflected in numerous start-ups and tech companies in and around the city. The atmosphere in Cluj is forward-thinking and open, which is perfect for digital nomads seeking fresh perspectives and inspiration.
Language and Diversity
The presence of a large student population also means that English is widely spoken, making it easier for digital nomads from around the globe to communicate and navigate the city. The diversity brought by the international student community enhances the city's cosmopolitan feel, enriching the cultural experiences and promoting global connections.
Active Nightlife
Finally, the lively student population guarantees an active nightlife. The city is dotted with numerous bars, clubs, and music venues catering to various tastes. Whether you're looking for a cozy jazz bar, a vibrant club, or a laid-back pub, Cluj has you covered. This vibrant nightlife provides ample opportunities for digital nomads to relax after work, meet new people, and enjoy a diverse mix of music and entertainment.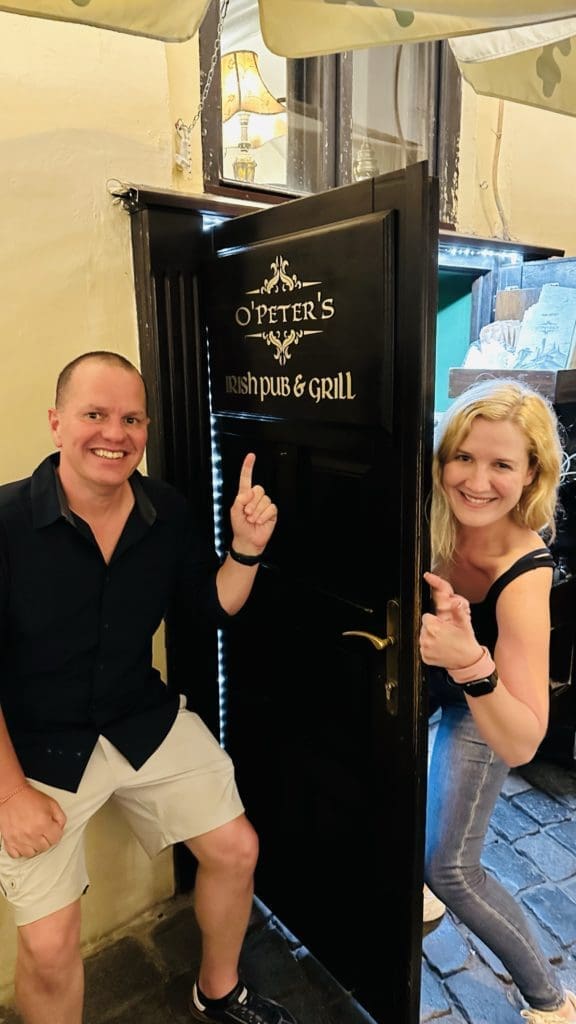 The Digital Nomad Romania – 3-Cs: Co-working, Cost, and Community
We always say that digital nomads are looking for three things when deciding where to go next: co-workings with fast internet, a low cost of living, and a community to immerse ourselves in.
Cluj, Romania hits the mark on all three!
Co-working Spaces
Co-working spaces have become synonymous with digital nomadism, providing professionals with a structured environment that promotes productivity and networking. Cluj offers several co-working spaces that cater to different work styles.
ClujHub: Situated in the city center, ClujHub provides a perfect blend of workspace and networking opportunities. This co-working space provides meeting rooms, event spaces, and individual workspaces, all with a modern design aesthetic.
Silicon Forest: Whether you need a desk, office suite, or entire HQ, Silicon Forest creates environments that increase productivity, innovation, and collaboration.
We Love Digital: This place is known for its unique creative vibe and attracts many digital professionals and entrepreneurs. We Love Digital offers spacious working areas and a calendar full of engaging events.
Café Culture
Many digital nomads in Romania prefer to work from cafes rather than co-workings.
And Cluj boasts a lively café culture that digital nomads will undoubtedly appreciate. With an abundance of coffee shops that offer free Wi-Fi, Cluj is a paradise for remote workers.
Meron: Meron is a chain with locations around Cluj. One of the most popular for digital nomads is in the old town. This location is in the same building as the ClujHub co-working and is next to a Carrefour grocery store, making it an ideal spot for digital nomads to gather and work.
Olivo Coffee: Known for its high-quality coffee and delectable pastries, Olivo is another popular spot. It has ample seating and a quiet atmosphere, perfect for focused work.
Samsara Foodhouse: While not a coffee shop in the traditional sense, Samsara offers a quiet place to work and a variety of vegetarian and vegan dishes. It's an excellent spot for lunch breaks.
Digital Nomads Romania – Cost of Living in Cluj
One of the many reasons why Cluj has become a popular destination for digital nomads is the cost of living.
While Cluj has become one of the most expensive cities in Romania, compared to many Western European cities, Cluj is very affordable.
Accommodation: Rental prices vary depending on the location and the type of apartment. A one-bedroom apartment in the city center ranges from €700 to €1500 per month. In the outskirts, the same will be less.
Food: Eating out is quite affordable in Cluj. A meal at an inexpensive restaurant costs around €6-€8, and a three-course meal for two in a mid-range restaurant is about €30. Groceries are also inexpensive, making home cooking an economical option.
Transportation: Public transportation is widely used in Cluj and is very cheap. A monthly pass costs around €17. The city is also very walkable and bike-friendly, which can reduce transportation costs. Lime and other e-scooters are also plentiful.
Cultural and Social Events
Cluj's status as a university city means there's always something happening. The city hosts numerous cultural and social events throughout the year, from music festivals like the renowned Electric Castle (more on that in a second) and Untold, to film festivals and theatre performances. These events offer a fantastic opportunity for digital nomads to socialize, network, and immerse themselves in the local and international cultural scene.
There are also activities around the co-workings for digital nomads looking to connect.
There are also active digital nomad Facebook and WhatsApp groups for digital nomads in Cluj.
We played in a pub quiz at the Londoner Pub and ended up taking second place one week!
Electric Castle Festival – A Unique Cultural Experience for Digital Nomads in Romania
One event that has put Cluj, Romania on the international map and warrants special mention is the Electric Castle Festival. Held annually in the town of Bontida, about 30 kilometers from Cluj, this multi-genre music festival has become a hallmark event for music lovers worldwide.
We were in Cluj in July when the festival took place and it's definitely something to see!
Atmosphere and Venue
The festival takes place in the grounds of the historic Banffy Castle, giving it a unique and enchanting atmosphere. The castle's ruined appearance, juxtaposed with state-of-the-art light and sound installations, creates a surreal ambiance that can't be found anywhere else. It's a five-day extravaganza that merges traditional elements with modern music, and art forms, and technologies, making it one of the most eclectic festivals in Europe.
Music and Activities
Electric Castle is renowned for its diverse lineup, offering a mix of music genres from EDM, reggae, hip hop, indie, to rock, attracting artists from all over the globe. But what truly sets Electric Castle apart is its emphasis on creating a holistic cultural and social experience. The festival also hosts a plethora of other activities, including film screenings, yoga sessions, workshops, and art installations. It's a platform for artists, musicians, and creatives to come together and celebrate their crafts, fostering a sense of community.
Impact on Digital Nomads in Romania
For digital nomads, the Electric Castle Festival provides an excellent opportunity to take a break from work and immerse themselves in a unique cultural experience. It's a chance to meet people from all walks of life, expanding one's social network in a relaxed, fun environment. Moreover, being a part of such an international event allows digital nomads to connect with the global pulse, refreshing their perspectives and boosting creativity.
The Electric Castle Festival is more than just a music festival; it's a cultural immersion and a celebration of creativity and diversity. For digital nomads residing in Cluj, it's an event not to be missed. It encapsulates the city's spirit – youthful, dynamic, and culturally rich, making the digital nomad experience in Cluj not just about work, but also about embracing global cultures, making new connections, and enjoying memorable experiences.
Day Trips from Cluj for Digital Nomads in Romania – Exploring the Heart of Transylvania
The central location of Cluj in Transylvania makes it an excellent base for a range of interesting day trips. Here are a few must-visit places:
Turda Salt Mine
About a 40-minute drive from Cluj, Turda Salt Mine is one of the most impressive underground attractions in Romania. A former salt mine turned tourist attraction, it features a Ferris wheel, mini-golf course, and a lake where you can row a boat, all underground. The impressive lighting gives the cavernous space a mesmerizing, other-worldly atmosphere.
Lake Tarnita
Just a short drive from Cluj is Lake Tarnita. It's a beautiful place to spend a day on the water. And at Kayak Tarnita you can rent a kayak, SUP board or water bicycle.
Alba Iulia
Located around 100 km from Cluj, Alba Iulia is a historic city with a beautifully preserved star-shaped citadel. The city played a crucial role in the history of Romania and is the place where the country was declared a unified state in 1918. It's a great place to learn about Romania's past and enjoy a relaxing day exploring the citadel, museums, and restaurants.
Sibiu
Although it's a bit further away (around 2.5 hours by car), Sibiu is worth a visit. As a former European Capital of Culture, Sibiu boasts a beautiful old town with colourful houses, cobblestone streets, and baroque architecture. Don't miss the Brukenthal National Museum and the Council Tower for fantastic views over the city.
Maramures
If you're looking for an immersive cultural experience, head north to the region of Maramures. Famous for its wooden churches, traditional villages, and beautiful landscapes, Maramures offers a peek into the rural Romanian life that has remained largely unchanged for centuries. The Merry Cemetery in S?pân?a, known for its colorful tombstones and humorous epitaphs, is a unique site not to be missed.
Bánffy Castle
While you might visit this for the Electric Castle festival, Bánffy Castle in Bontida is worth visiting for its architectural beauty alone. Known as the "Versailles of Transylvania," this baroque castle is currently under restoration and houses some interesting art installations.
Whether you're a history buff, a nature lover, or someone looking for cultural immersion, these day trips from Cluj offer a variety of experiences to enrich your stay in Romania. These trips provide an excellent balance to the bustling city life of Cluj, allowing digital nomads to explore the fascinating and diverse landscapes that Transylvania has to offer.
Bottom Line – Digital Nomad Romania – Cluj, Romania
As the digital nomad lifestyle continues to grow in popularity, cities like Cluj are embracing this trend and making themselves hospitable for remote workers. With its affordable cost of living, numerous co-working spaces, and thriving café culture, Cluj is an excellent choice for digital nomads. This city not only provides a conducive work environment but also a chance to experience a rich cultural history and breathtaking landscapes. Being a digital nomad in Cluj is about creating a perfect balance between work, exploration, and social connection.
In conclusion, being a digital nomad in Cluj, Romania, offers more than just affordable living and great co-working spaces. The city's university culture provides a dynamic social and cultural environment that is both inspiring and enjoyable. It offers a unique blend of work-life balance with an emphasis on personal growth, cultural exchange, and social interaction.