My reviews of AirAsia Hot Seats from Chiang Mai to Kuala Lumpur and back were pretty detailed.
So this review of AirAsia from Chiang Mai to Hanoi will just focus on the AirAsia Premium Flex experience.
AirAsia Premium Flex
After our experience flying to Kuala Lumpur and buying lots of add-ons we wanted to review AirAsia Chiang Mai to Hanoi on a Premium Flex ticket.
AirAsia Premium Flex is basically a bundle of all of the premium add-ons that AirAsia offers.
If you are familiar with Southwest Airlines, it's AirAsia's version of Business Select.
Wondering how we find cheap coach and business class flights? Check out our Cheap Airfare Guides:

How To Use Google Flights to Find Cheap Business Class Flights (And Cheap Economy Flights Too!)
AirAsia Premium Flex Perks
Here are the published benefits of AirAsia Premium Flex:
20kg checked baggage allowance
Pick A Seat Standard or Hot Seats (Hot Seats are subject to availability)
Xpress baggage
Xpress boarding
Premium Flex counter: Premium Flex guest are able to use the Premium Flex counter.
Complimentary 3-hour AirAsia Premium Red Lounge access for guests departing from klia2. RM79 charge applicable for every additional 3 hours. Click here to learn more.
Complimentary inflight meal included (limited selection)
Insurance 1 Hour On Time Guarantee and Baggage Delay
Guests may change flights up to 2 hours before the scheduled time of departure. No fee is charged for the first two (2) changes, but fare differences apply (if any).
For flight changes after the first 2 i.e. 3rd and onwards, guests may change flights up to 2 hours before the scheduled time of departure, however, both fees and fare difference will apply.
Flight Change has to be done at least 3 hours before the scheduled time of departure of the new flight for AirAsia (AK, QZ, FD, PQ, Z2, I5) and at least 4 hours before the scheduled time of departure of the new flights for AirAsia X (D7, XJ, XT).
Earn AirAsia BIG Points – RM1=3 AirAsia BIG Points except for D7 which is RM1 = 1 BIG Point.
The Cost and Benefits of AirAsia Premium Flex
The fare difference between a basic ticket and AirAsia Premium Flex was about 1000 Baht ($31US) per person.
But when you subtract the cost of all the add-ons we had bought on previous flights (hot seat, meal, etc) the difference is more like about $15US pp.
For us, the biggest perks were Xpress checkin and being able to reserve and sit in row 1 which have the best seats on AirAsia.
When we had flown to KL during Chinese New Year the queue for check-in had been sooooo long. With Premium Flex we just walked right up to the counter.
Because of AirAsia's strict baggage weight limits and all the new product samples we were carrying we had decided to just check our backpack/wheelies – the best long-term travel bag in the world!
And at the Premium Flex counter we were pleased to get Xpress Baggage stickers on our bags.
Boarding
Once again, Hot Seats allowed us to be among the first to board. Boarding to row 1 felt great:
The Air Asia Premium Flex Flight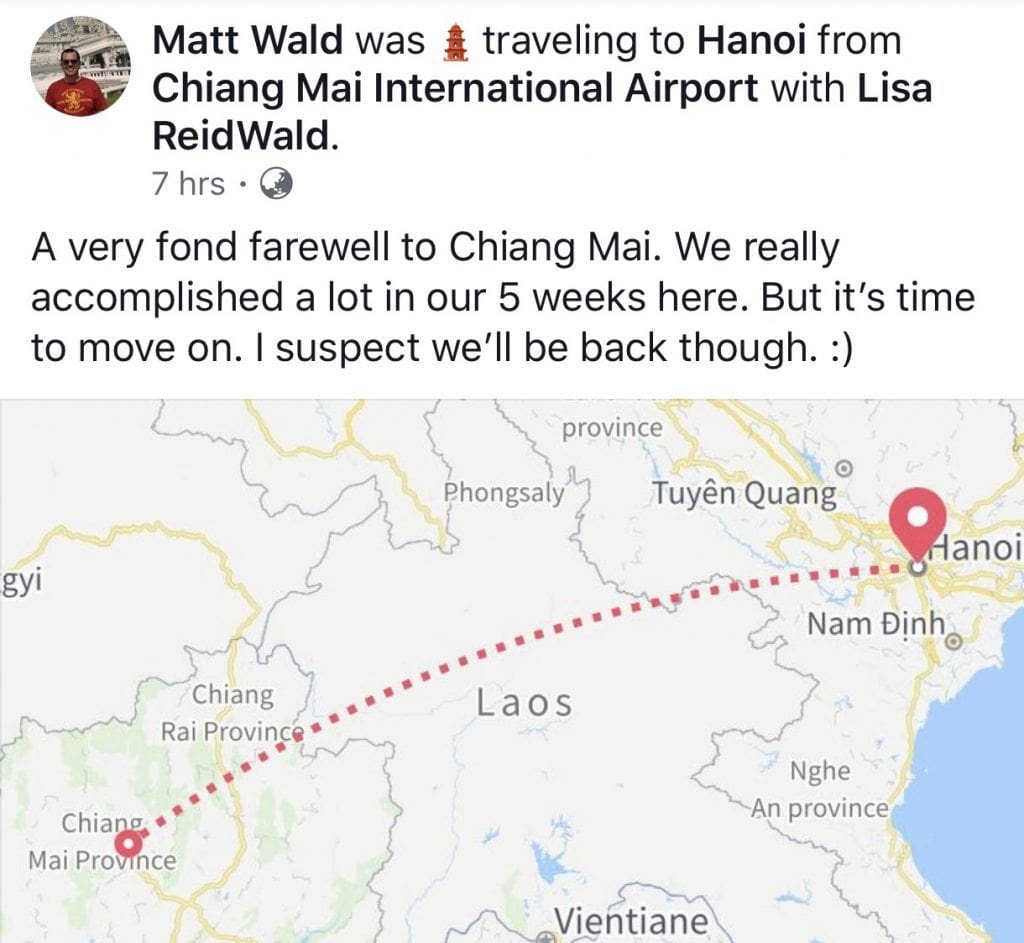 It's a quick and easy 1.5 hour flight from Chiang Mai to Hanoi.
In row 1 we had ample leg-room to spread out, cross our legs and enjoy the flight.
Once again, our (included with Premium Flex) hot meal was mostly rice which we don't eat on our travel keto diet, but the small portion of chicken that was served with it was surprisingly tasty.
Arrival
We arrived in Hanoi and dealt with the visa-on-arrival formalities which we had fast-tracked (more on that in another article).
In all it took about 30 minutes to get to the baggage carousel. But the bags from our flight were still not out yet.
When they finally came out 15 minutes later the notion of 'Xpress Baggage' was undermined: our bags were among the last to appear.
But soon enough we were in Hanoi and at the start of a period of exiting fast travel.
Bottom Line – AirAsia Premium Flex Chiang Mai to Hanoi
Once again, you get out of AirAsia what you put into it.
AirAsia Premium Flex fares provide the best possible experience.
But are they WORTH it?
For us, AirAsia Premium Flex adds a touch of affordable luxury to the entire AirAsia experience.
Related Content