We arrived in Ubud, Bali for 48 hours from having spent a short time in Canggu, Bali.
We planned our time in Bali as part of a fast travel sprint: we would spend three nights in Canggu then 3 nights in Ubud and use that time to decide if Bali was a place we would want to return to for slow travel at some point.
Bali Belly
Unfortunately, our transition day included a 24-hour case of Bali Belly for me.
As with any 'travel sickness,' it's hard if not impossible to pinpoint the exact culprit but I certainly had been careful about water and food.
At least it only lasted 24 hours, and luckily it's only about an hour drive from Canggu to Ubud.
Plus I was prepared: I brought a travel meds kit package I had bought on Amazon for just this sort of occasion. Thank goodness!
Hotel: Meruhdani Ubud
We chose the Meruhdani Ubud based on its location in Ubud: off the main road but still in the middle of things.
It's a beautiful little property. The staff was amazingly polite and attentive but could have used a little more training: check-in took a lot longer than it should have. But we loved our time there!
The pool at Meruhdani is fairly short but we made it work for some short laps as well as relaxing!
And just like in Canggu, the guest house prices in Ubud fit our budget nicely:
Sightseeing in Ubud Bali
Whereas Canggu is about the beach and surfing, Ubud is about seeing ancient sites, trekking/hiking and yoga. So. Much. Yoga.
Spoiler: we didn't do any!
Ubud is very laid back. We walked all over Ubud and everywhere we went the vibe was relaxed and fun. Lots of tourists. Lots of backpackers.
Meanwhile, our keto lifestyle continues to pay dividends: Lisa found that her trekking shorts were too big for her! Rather than investing in a belt (one more thing to try to fit in her bag), she made use of a strap from one the samples she ordered from China while we were doing slow travel in Chiang Mai!
Once I was over my case of Bali Belly we had a fantastic time exploring:
Ubud Palace and Pura Taman Saraswati Temple
These two sites are located right on the main road in Ubud and make for a fine afternoon of exploring.
Rice Paddies and Terraces
Hiking just off the main road in Ubud is also a pleasure. There are several treks but our favorite was hiking across rice paddies and terraces.
Eating in Ubud Bali
Cafe Des Artistes
Cafe Des Artists was, by far, our favorite restaurant in Ubud. Great atmosphere, great keto-friendly food and a really decent house wine at a reasonable price.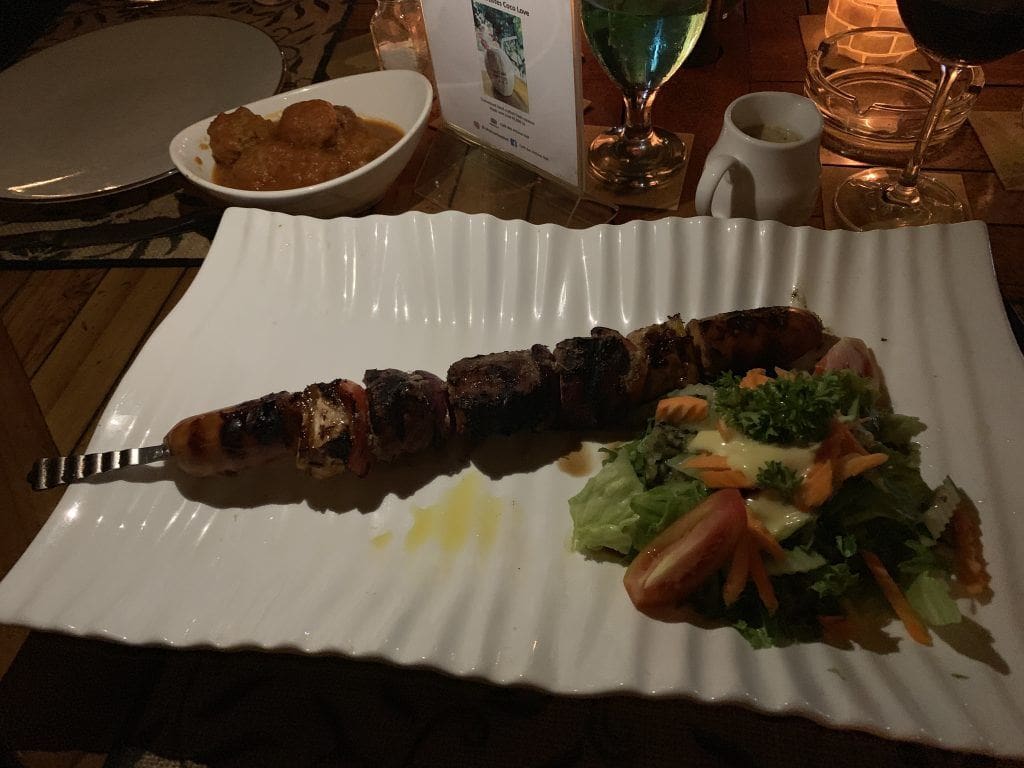 Best of all, Cafe Des Artistes was just across the street from our guest house!
The Rest
We had really good food and ambiance at Bonito, although Lisa's tuna was a little chewy:
Lunch at Arang on the main road was fun: it was served with a hot brick so we could cook our pork belly to a crisp…just how we like it: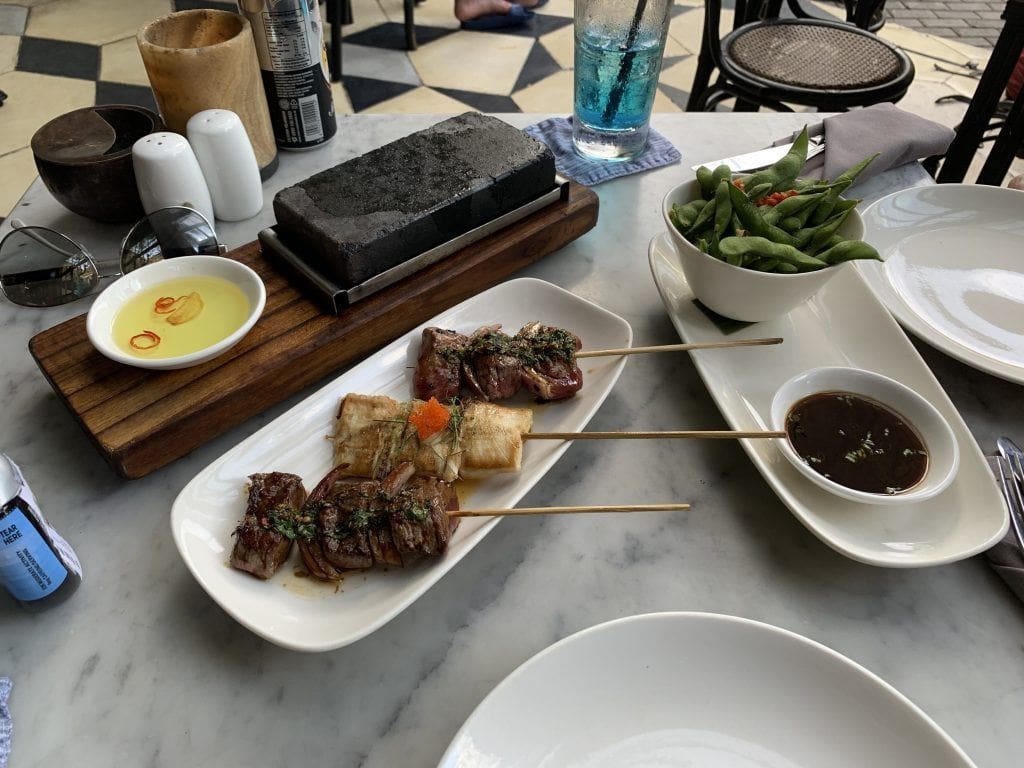 Lisa missed Thai green curry and Thai beef salad, so we stopped by Waring Siam to scratch that itch: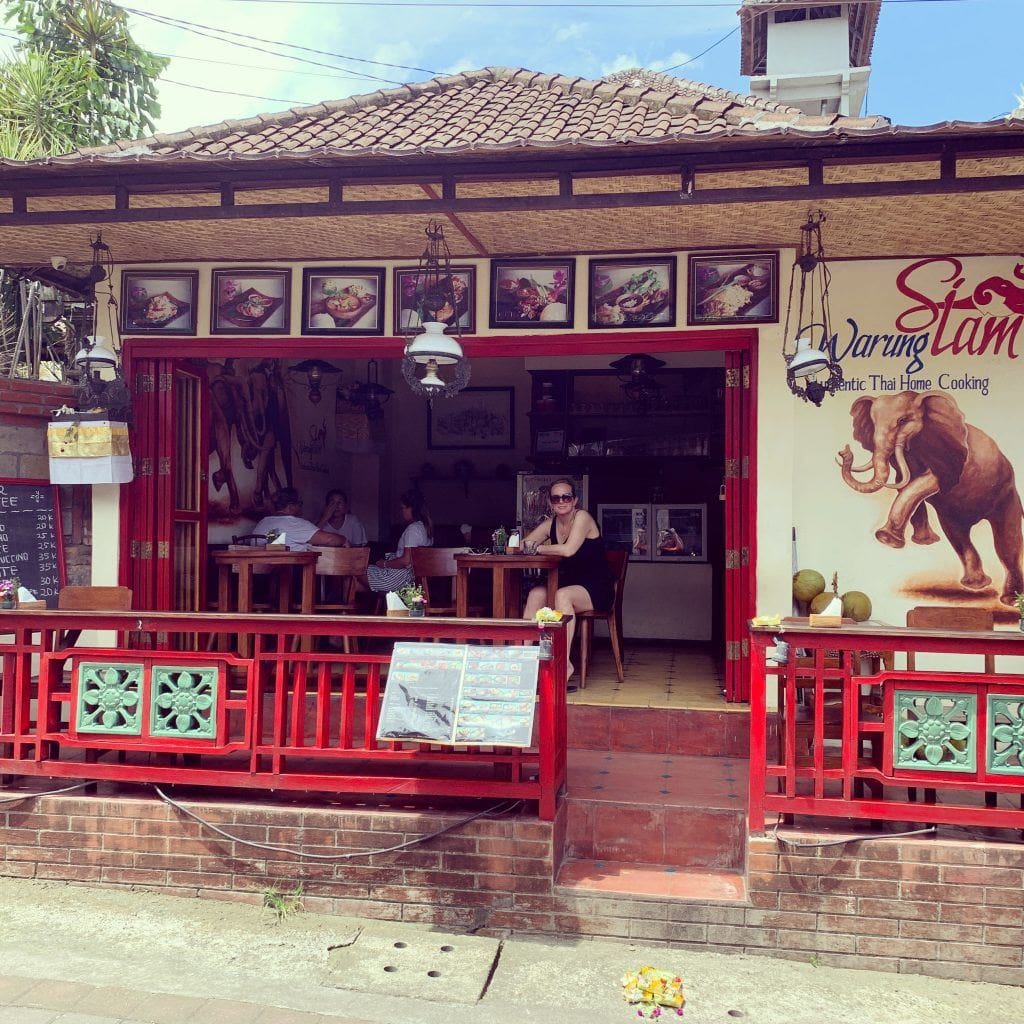 Warung River View is accessed by a long, narrow path from the main street in Ubud.
The food there is so-so, but the view was great and we were joined by a guest:
Nomad restaurant has a very cool and appropriate name but only mediocre food:
Bottom Line
We really liked Ubud Bali and felt like 48 hours was not nearly enough.
Ubud is definitely on our short list for some future slow travel…we will be back!
But we had a Qantas business class flight from Bali to Sydney to catch.