Here is what to do in Sydney, Australia for four days:
Walk around Circle Quay and Royal Botanical Garden
Do the Hop On/Hop Off Bus
Visit exhibits at the Powerhouse Museum
Have cocktails at the Opera Bar and Squires Landing on the Harbor
Explore and get some sun on Bondi beach.
Why Sydney?
We arrived in Sydney during a period of fast travel that we planned while we were doing slow travel in Da Nang, Vietnam.
Sydney is one of the most expensive cities in the world. So we had to work pretty hard to find affordable luxury in Sydney Australia!
But we hoped to catch up with some friends who are Australian, are expats in Australia or would be visiting Australia during the same period.
Like Meatloaf said, two out of three ain't bad!
Hotel
As I say, Sydney is expensive on any budget. And staying in central business district in Sydney is particularly expensive.
Luckily, thanks to our former lives as corporate execs who traveled a lot, we have a stash of points and miles that we can use in situations where lodging would take us out of the realm of affordable luxury.
And in fact, Lisa traveled so much for work that she not only has a pile of Marriott points, she has lifetime Titanium status in the Marriott Bonvoy program.
So when we stay at Marriotts, Westins, Sheratons and all the other Bonvoy hotels we get really nice upgrades and lounge access. Another mid-career affordable luxury travel hack!
All of which is to say: in expensive downtown Sydney we stayed at the Sydney Harbour Marriott Hotel at Circular Quay on points, and were upgraded to a deluxe room on the 32nd floor with a harbor and Opera House view.
Very, very nice!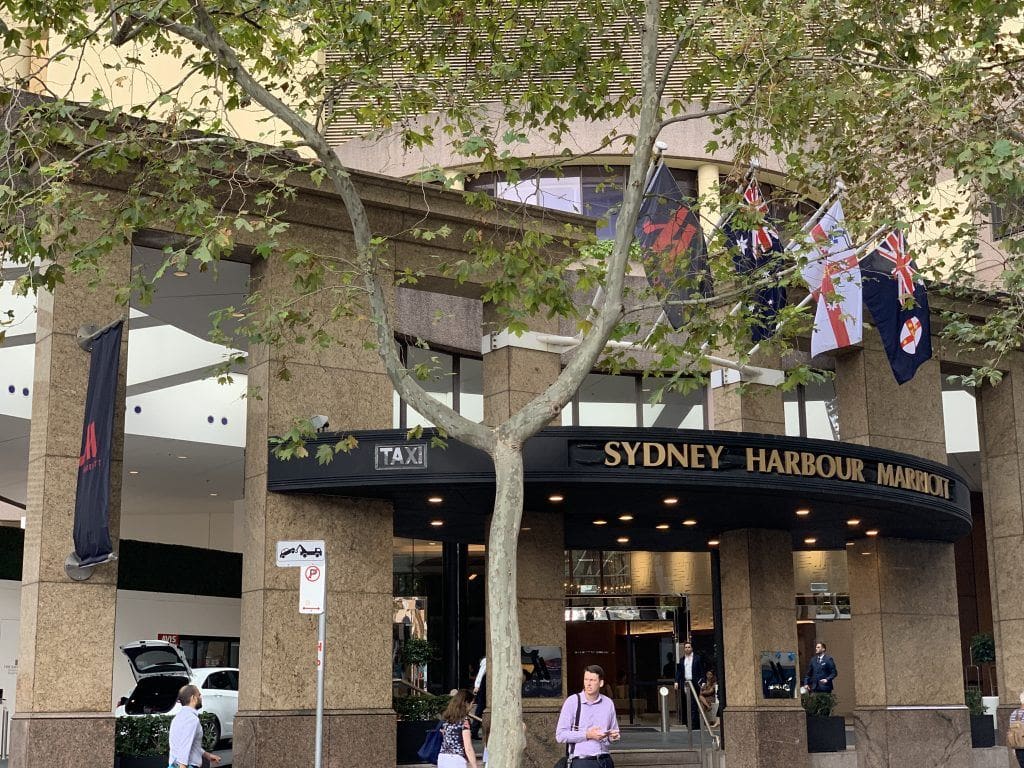 Working Out
Unfortunately, the pool at the Marriott is NOT designed for laps.
But fortunately our friend James' apartment building a few blocks from the Marriott has a terrific lap pool that we used two of our four days in Sydney.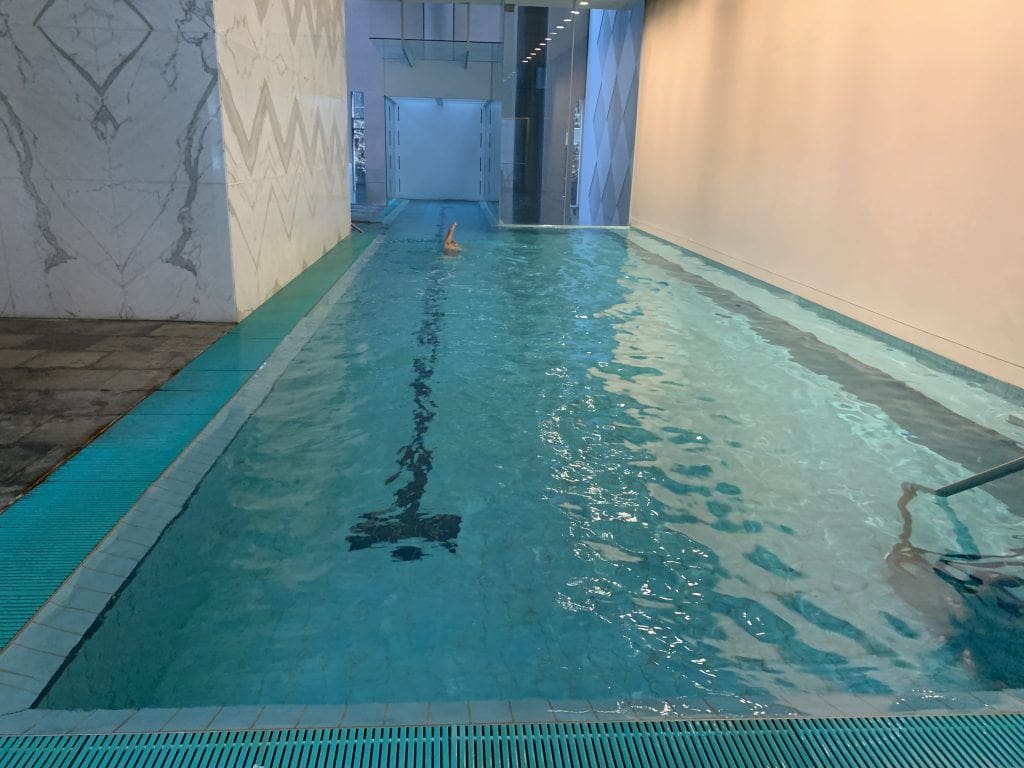 Days 1 and 2: Seeing Sydney
Walk around Circle Quay and Royal Botanical Garden
The most iconic Sydney landmark is the Sydney Opera House.
And there is no better way to see it from all angles than to walk from the opera house to Mrs Macquarie's Chair on the point opposite from it through the Royal Botanical Garden.
It's a gorgeous walk and always full of surprises.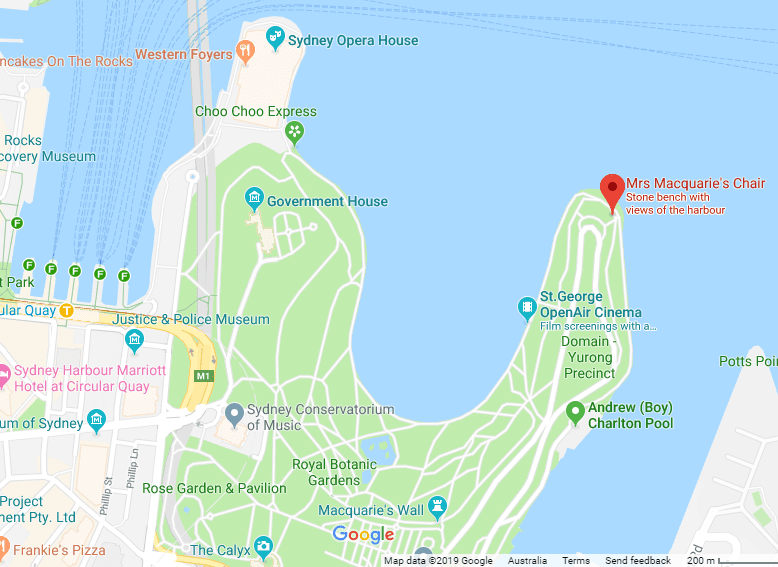 On this walk we were greeted with a warm welcome from the Royal Botanic Gardens:
A little further on we stumbled upon a rehearsal for West Side Story that was showing at the St. George OpenAir Stage right on the harbor.
Eventually we made it to Mrs. MacQuaries Point and had a selfie session.
We enjoyed this self-guided tour, but you can also do guided walking and biking tours in Sydney.
Hop On/Hop Off Bus
A Sydney 24-hour hop-on/hop off bus tour is a great way to see a lot in a short amount of time.
We like to split a 24-hour ticket by starting in the afternoon and getting the lay of the land, then using the next morning to get to the places we decide to actually spend some time exploring.
That was certainly true in Sydney.
We were able to hit many of the non-CBD highlights over a couple hours.
Then, suddenly, opportunity met preparation.
I saw this from the hop on hop off bus: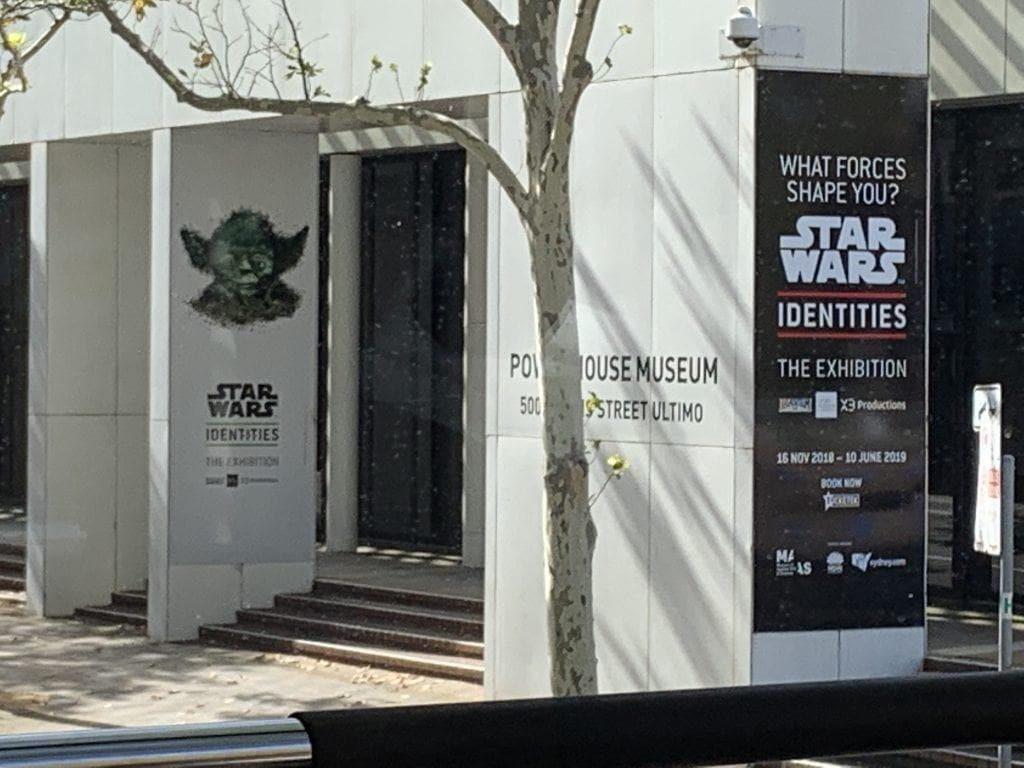 And I knew what we were going to do that afternoon!
Star Wars Identities at Powerhouse Museum
The collection of Star Wars original costumes and props at the Star Wars Identities exhibit are AMAZING! And Lisa was so patient while I geeked out over them for a couple hours.
The theme of the exhibit – build your own Star Wars identity – was a bit silly, and there was an over-emphasis on the prequels, but it was still nerdvana…and I was in it!
Opera Bar
On our first night in Sydney we reunited with our friend James over cocktails at the scenic Opera Bar.
We ate some keto friendly snacks and spotted a gathering of Sith Lords – who I assumed were in town to visit the Star Wars Identities exhibit: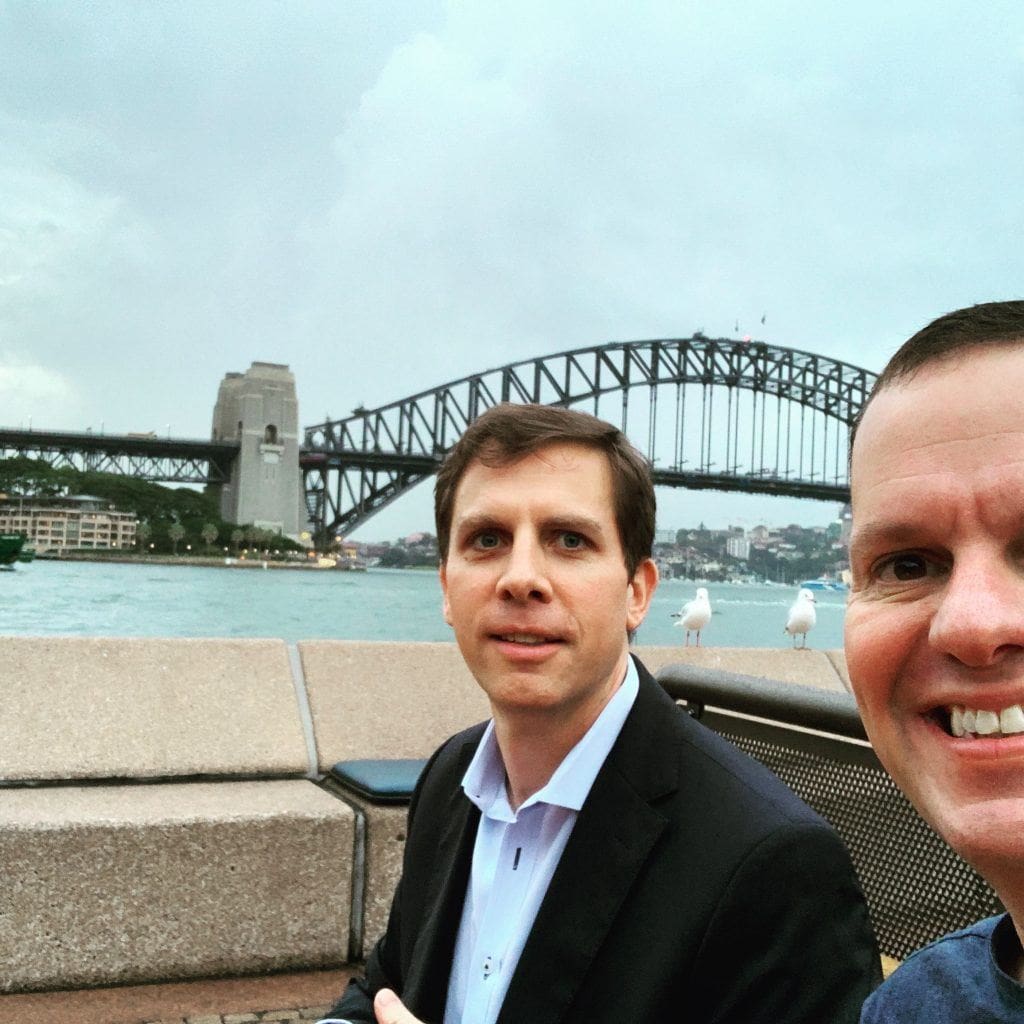 Just kidding. They were preparing for a Sydney Harbor motorboat cruise.
Squires Landing on Quay
We also had cocktails at Squires Landing on Quay, a bar opposite the ferry terminal from the Opera House. Gorgeous spot for a drink and fun.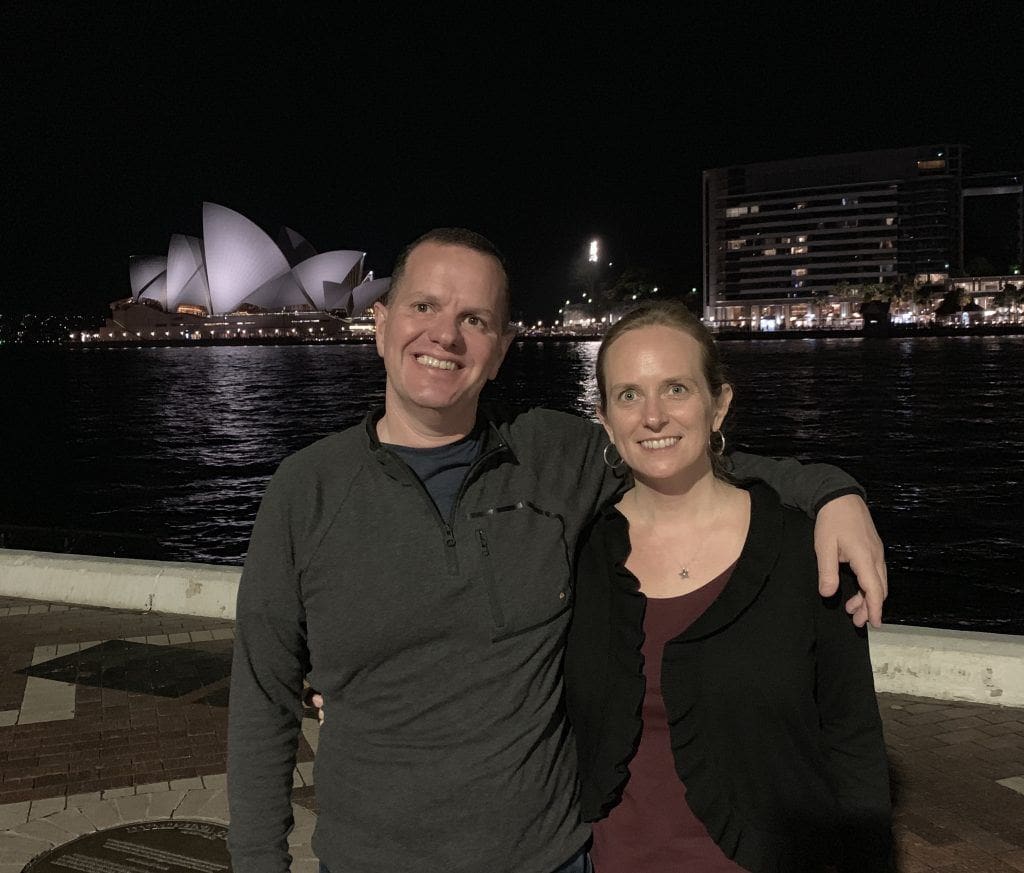 The Hero of Wellington
On our second night we reunited with our Aussie friends Glen and Margo over dinner at the Oldest Pub in Australia, The Hero of Wellington. Well, one of the oldest pubs in Australia – several claim that distinction.
Sadly we were so busy catching up and chatting that I neglected to take a photo! 🙁
Day 3: Sunday Brunch, Hike and Lounging in Bondi
On Sunday we collected James, popped in a taxi and took the short drive to Bondi to meet his friend Prue for brunch then enjoy Bondi.
Brunch: Trio Bondi Beach
We had brunch at Trio Bondi Beach. And I recommend it unreservedly!
The white truffle eggs with prosciutto, avocado and chorizo was the most perfect keto meal I've had in awhile!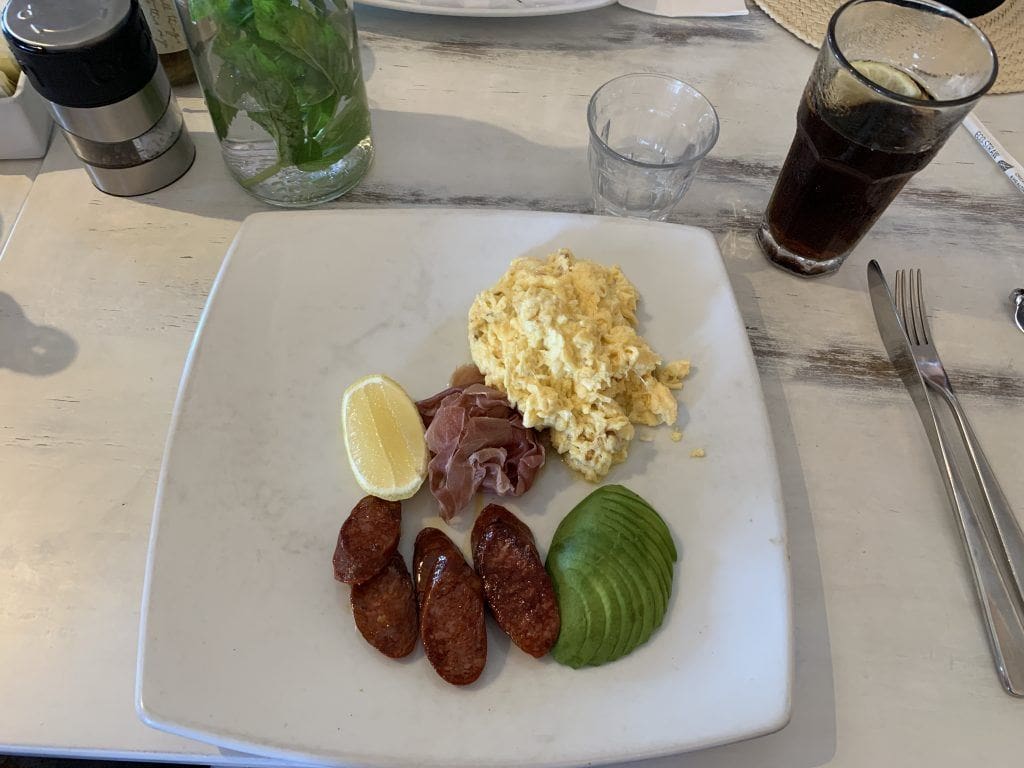 Exploring Bondi
After brunch Prue took us on a short trek around Bondi so we could see the beach from different perspectives.
Along the way we also saw Icebergs Swim Club featuring a seawater lap pool. If we had brought our goggles we DEFINITELY would have swum some laps in that sucker! Gorgeous.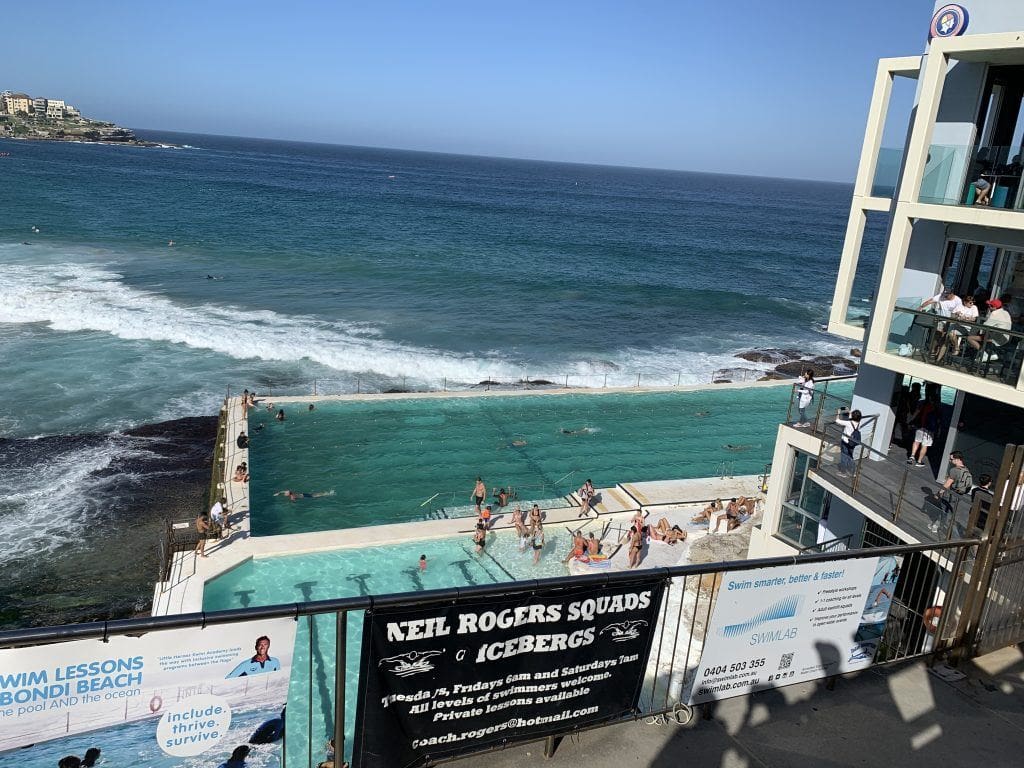 Beach Time
After exploring for a while we laid out towels and soaked up the sun and surf.
I was nervous about leaving our stuff on the beach when we went in the water, but James reassured us that 'It's Australia, mate! No one will touch your stuff!'
Nice.
I have to say, I'm a total ocean geek.
I love body surfing and just jumping waves. And the surf at Bondi was amazing.
The waves were big but never scary. It was an absolute delight and I spent 45 minutes or so just enjoying jumping over, ducking under and riding waves!
Day 4 in Sydney: More Exploring and Getting Stuff Done
Morning Stroll
Day four started with a long walk into the heart of the city. We saw Martin Place, did some window shopping along the Strand Arcade and explored the Town Hall areas.
Errands
Our last full afternoon in Sydney was dedicated to accomplishing some errands that we had been putting off that could only reasonably be done in a city like Sydney.
After over 3 months in Southeast Asia, Lisa took advantage of being in Sydney to make a hair appointment. She was thrilled to be in a land that understands how to deal with blond hair! And she looked amazing afterwards.
In the meantime, I dedicated the day to turning all of our various random currencies into Australian dollars to defray the cost of being in Australia.
Over the course of our lifetime of travel, Lisa and I had both accumulated lots of 'leftover' cash from traveling. Much of it was old…more than 10 years…as it dated back to a time before credit cards were widely accepted in less developed places.
I had carefully counted and sorted the cash before we launched: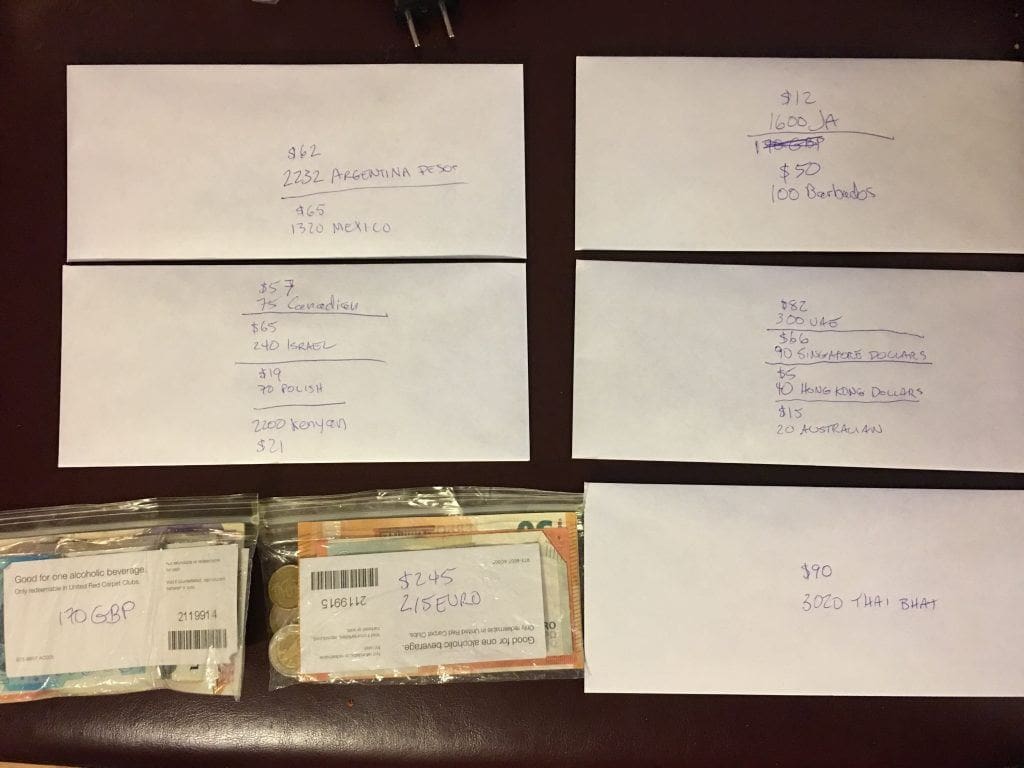 Accomplishing this task was surprisingly hard.
Most cambios won't take 'minor' currencies, and those that will accept them will not take bills more than a couple years old.
But after some research and inquiry I made my way to a Travelex located in HSBC Centre, 570 George St.
The cashier and I spent about a half-hour talking about how we had collected this motley collection of cash and being continually amazed that her terminal would accept the various currencies.
I had converted and spent some of our old cash along the way, so by the time I got to Travelex this is what I had: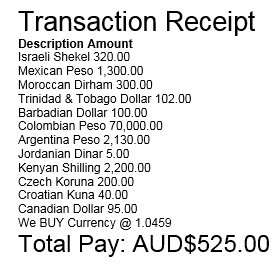 I didn't get market rates at Travelex, but at least I got something for the collection.
PRO TIP: don't sit on 'minor' currencies! Get them converted ASAP before they become worthless!
The Winery Restaurant
For our last night in Sydney we decided to make our way to the neighborhood of Surry Hills to try a fun little wine-focused restaurant.
The food was great but the ambiance was the real winner!
And the menu prices were affordable.
After dinner we took the long walk back the harbor, passing the Anzac Memorial in Hyde Park along the way.
Leaving Sydney
The next day we made our way to the airport for our domestic economy flight from Sydney to Melbourne on Qantas.
We really, really loved our time in Sydney. It's a really fun and interesting city that we were able to do in affordable luxury.
And Lisa, the city girl, got to take a deep city breath and really enjoy the urban vibe.