What to do in the Bangkok for 2 days of affordable Luxury Travel?
Shop in the amazing malls.
Get a massage.
Explore Sukhumvit by day and again by night.
Enjoy Bangkok street food and street bars.
Eat some amazing food in affordable gourmet restaurants.
Here's what we did in the Sukhumvit area of Bangkok for 48 hours.
Arriving in Bangkok for 2 Days
We arrived in Bangkok on a 3-hour car ride from a week of beach and sun in Hua Hin, Thailand.
We had a couple days before our flight from Bangkok to Hong Kong then on to LA: it was time to transition from 5 months in southeast Asia to Europe with a few weeks in the US visiting friends and family squeezed in between.
Where to Stay in Bangkok for 2 Days
We knew we wanted to stay in the central Sukhumvit area of Bangkok.
Sukhumvit Road is the commercial center of Bangkok. Famous for shopping malls, nightlife hotspots and street food, Sukhumvit is popular with Bangkok's expat community and travellers.
It's an easy place to do a lot of stuff during a short stay in Bangkok.
We also really wanted to keep up with our swimming regimen so we mostly looked at places with pools.
We chose the Key Premier by Compass Hospitality which is right on Soi 7 in the heart of Sukhumvit in Bangkok.
Hotel
The Key Premier is a fairly new and rather small hotel.
It's neither budget nor luxury…call it 'boutique.'
Rooftop Pool and Bar
The gem of the Key Premier is the rooftop pool, bar and restaurant.
Although small, we were able to to laps in the swimming pool.
And lounging by the pool or at the adjacent bar sipping a drink after a hot day in Bangkok is a lovely thing to do.
Service – A Song of Fire and Ice
The Key Premier also excels in terms of service.
The staff were all super-friendly and nice.
Great example: it so happened that our time in Bangkok coincided with the series finale of Game of Thrones.
I freaking love the show, so had been watching the final season during our travels using VPN to watch American TV while traveling. Learn how to do that by clicking here.
However, for the first time we encountered a TV that was locked to Hotel Mode.
Unlocking a TV from hotel mode is fairly simple. You enter a code using the remote. But the TV in our room was not accepting the code.
I did everything I could think of, including spending a considerable amount of time behind the TV.
I finally gave up for the night.
The next morning I called the front desk.
A technician arrived quickly and tried all the things I had already tried to unlock the TV with the same result.
But he had an ace in the hole!
He took out a screwdriver and took the TV off the wall. Then he went out in the hallway and brought in a new TV that he had brought along 'just in case.'
Within 3 minutes he had the TV hung and unlocked. And we were watching the season finale of Game of Thrones 5 minutes later!!!!
Now THAT'S great service!
What to Do in the Sukhumvit Area of Bangkok for 48 Hours
Shopping in the Sukhumvit Area of Bangkok
No visit to the Sukhumvit area of Bangkok is complete without some shopping.
We decided to head to Central World Mall.
To get there we took the Bangkok MRT (metro).
Central World is the 10th or 11th largest mall in the world.
I got a new pair of shoes, Lisa got a pedicure and we both bought a couple of shirts to replace shirts that would have to stay behind (packing to be a digital nomad means making sacrifices!).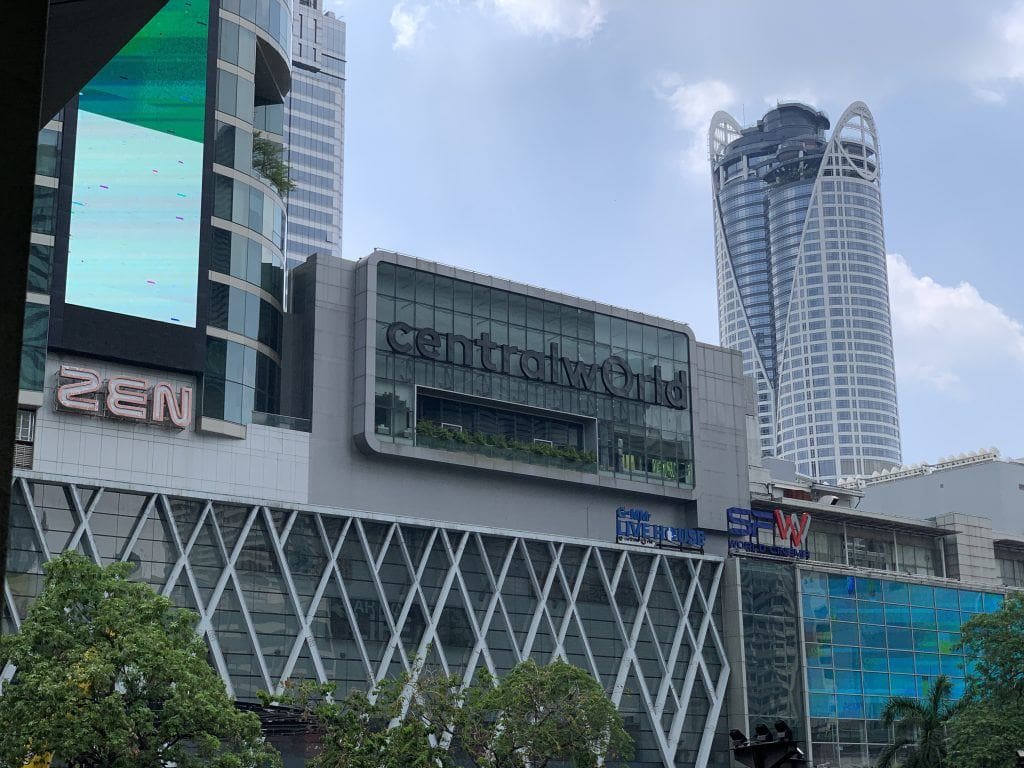 Massage
There are two types of massages in Bangkok and Thailand generally: normal and soapy.
Normal massages are…normal. Soapy are…um…well, you know.
No visit to Bangkok is complete without getting a NORMAL one!
Which Lisa and I did. We opted for an after-dinner leg and foot massage just as we had done in Hua Hin.
Wandering Around Sukhumvit
Wandering around Sukhumvit never gets old. There are so many interesting shops, sights and goings-on.
Each day in Sukhumvit we spend some time wandering around.
This time we were rewarded with an alter being decorated with flower offerings.
Restaurants in the Sukhumvit Area of Bangkok for 2 Days
With such a short amount of time we wanted to try different Thai food experiences. So we did!
Street Food and Bars
Bangkok is famous for pop up street food and bars.
These can be as simple as small plastic table and chairs by a grill or as fancy as a repurposed VW bus.
Entire streets become food courts at night. The Key Premier is on Soi 7 which becomes a street food market at night.
We became huge fans of Thai street food in Chiang Mai, but the scene in Bangkok dwarfs what we saw in Chiang Mai!
Pantaree Restaurant
This place isn't the easiest to find. It's tucked away down a small alley. But it's worth the search.
Pantaree is a classic Thai covered open air restaurant.
It has no AC but has plenty of fans.
They serve great Thai food at very reasonable prices. We had keto friendly Thai omelette, green curry and some vegetables. Total cost under $10 US.
Oskar Bistro
Oskar Bistro is the opposite of Pantaree. It's what I call 'hipster Thai.'
In the heart of Sukhumvit, Oskar has fancy cocktails and western twists on Thai dishes.
Our Thai tapas meal and drinks there cost 10 times what we paid at Pantaree.
But it was darn good!
Bottom Line – Affordable Luxury Travel in Bangkok for 2 Days
No matter how short or long you stay in Bangkok, there is plenty to see and do.
For a quick 2 day stay it's hard to beat the Sukhumvit area.
In terms of affordable luxury travel you will find affordable luxury accomodations, affordable gourmet meals and cheap luxury massages.