What to do in Krakow, Poland for three days? Be a tourist!
Krakow is a beautiful city but has a dark past.
So to see the amazing you have to hang out in the Market Square. And see the Wawel Castle and Corpus Christi Basilica.
But you also have to take in the horrors of the 1930s and early 1940s in Krakow by visiting the old Jewish Quarter, the Jewish Ghetto memorials and the Oskar Schindler factory.
Getting To Krakow, Poland
After spending a couple of days in Wroclaw, Poland then a day trip to Opole, Poland we took Lisa's parents to Auschwitz and Birkenau.
Lisa and I had visited those Nazi concentration/labor/death camps before. And once was enough for us.
So we arranged for Lisa's parents to take a tour of the camps. Meanwhile, we had a long breakfast and did some work in the nearby town of Oswiecim where we overnighted.
From there it was a quick drive to Krakow.
_________________________________________________________
_________________________________________________________
Where to Stay in Krakow, Poland
Our requirements for a place to stay in Krakow, Poland for three days were simple: low floor and near the Market Square.
After much searching we found the perfect homestay: two flats across the hall from each other on the first floor of a building a few blocks from Market Square.
The Market Square in Krakow, Poland
The main square of the Old Town of Krakow is located at the center of the city.
It dates back to the 13th century and is one of the largest medieval town squares in Europe.
Historic townhouses and churches surround the square. The Cloth Hall (that contains tourist shops) is a unique-looking building that sits in the center of the square. It was rebuilt in 1555 in the Renaissance style and topped with a Polish parapet.
On one side of the Cloth Hall is the Town Hall Tower. On the other is the 10th century Church of St. Adalbert and Adam Mickiewicz Monument.
But as large and impressive as the square itself is, the Gothic towers of St. Mary's Basilica still manage to loom over it.
Taken as a whole, the square is massive, impressive, stunningly beautiful and the beating heart of Krakow.
It was hot when we visited Krakow. So we explored the square both by day and by night when it was cooler.
Krakow Square By Day
Walking around Krakow Square by day is delightful. We spent plenty of time appreciating the beauty of the architecture.
We shopped for souvenirs in the Cloth Hall.
Marlene made like a good European tourist and sampled ice cream from several vendors.
And we just sat, people-watched and took in the scene.
At one point I strayed a couple meters away from Lisa and her parents and – yep, just like in Wroclaw – got propositioned by a hooker.
She wanted to know if I wanted a friend. I said no. In a loudy whiney voice that I imagined meant to embarrass me she asked 'Whyyy nooooot? You no like me!?!?"
I said, "You seem nice," then pointed and said "But that's my wife. And those are her parents."
The look of shock and horror on her face was priceless.
She turned and apologized to them and slinked away.
Dear hookers of Poland: Jake and are just fine, thanks! Honestly! Please let us be!
Krakow Square By Night
As beautiful as it is by day, there is nothing more romantic than a stroll around Krakow Square after dinner.
Golf Cart Tour of Krakow
As noted, it was hot during our visit to Krakow, Poland for three days.
So rather than attempt to walk the city to see the sights we hired one of the many golf carts that provide tours of Krakow.
Unlike our fun and gregarious golf cart tour guide in Wroclaw, our driver in Krakow spoke no English. The information was provided by an Iphone programmed to explain the things we were looking at through a speaker in the cart.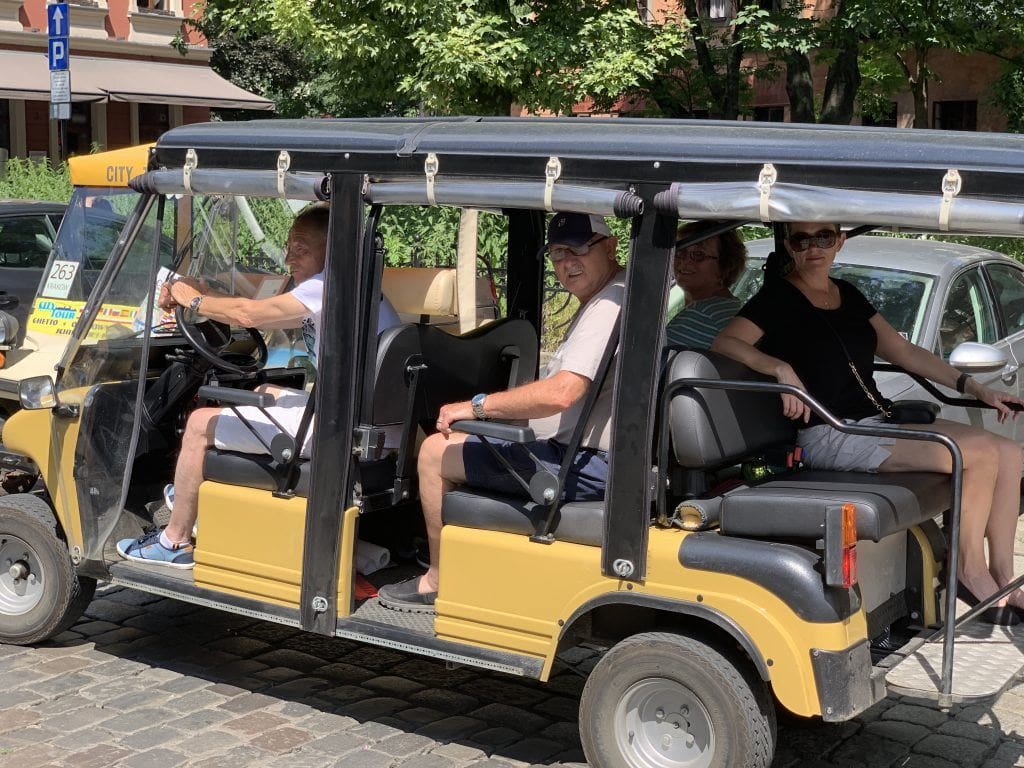 Since Lisa and I were sitting in the back seat facing backwards, this was a typical view as we made our way through the streets of Krakow.
Wawel Castle
Our first stop was a quick drive-by of Wawel Castle.
The castle is one of the largest in Poland. It's a mish mash of nearly all European architectural styles: medieval, renaissance and baroque.
For centuries it was a residence of the kings of Poland and the symbol of Polish statehood. Since 1930 it has served as an art museum.
Corpus Christi Basilica
Marlene's favorite stop on the tour was Corpus Christi Basilica.
The basilica was started in 1340 and completed nearly 100 years later.
It's an impressive structure!
Once inside, Lisa and Marlene lit candles and then we all stared in wonder at the gorgeous altar.
Jewish Quarter
From its inception in the fourteenth century to the late 18th century, Kazimierz was an independent city adjacent to Krakow. Eventually it became a district and neighborhood of Krakow.
For many centuries, Kazimierz was a place of coexistence and mingling of ethnic Polish and Jewish cultures.
The northeastern part of the district was historically Jewish and by the 1930s, more than 68,000 Jews lived in Krakow, which had 120 officially registered synagogues and prayer houses.
Although only a handful of Jews remain in Krakow today, their legacy and their buildings serve as stark reminders of the atrocities that befell the Jewish population of Krakow.
Nazi Jewish Ghetto
Jewish inhabitants of Krakow were expelled from Krakow after the Nazi invasion and occupation of Poland in 1939.
Of those who remained in 1941, 15,000 were forcibly relocated by the German occupying forces to the Jewish ghetto.
The ghetto was just across the river from the old Jewish Quarter. A wall was built that kept it separated from the rest of the city.
In May 1942 the Nazis 'liquidated' the ghetto. They sent fit Jews to labor camps as slave labor. Those unfit to serve as slave labor were sent to death camps for extermination. Those who remained in the ghetto were shot in the streets.
According to our tour information, today there are only about 100 active Jews in Krakow.
Ghetto Heroes Square memorializes this atrocity.
Iron and bronze chairs symbolize furniture being thrown out into the streets when the inhabitants of the ghetto were assembled by the German SS to be sent to death.
A small section of the ghetto wall also stands as a memorial to those dark, evil days.
Schindler's Factory
Our tour also took us to Krakow's fabled Oskar Schindler's Factory of Enameled Vessels.
Steven Spielberg used the actual factory in the movie Schindler's List.
Today it is a museum that is devoted to the experiences in Krakow under the five-year Nazi occupation during the World War II.
The museum takes up the sprawling administration building of the defunct plant.
I was struck by the proximity of the factory to the Jewish Ghetto.
Reflecting on Krakow's Dark Past
I am going to let a fictional Steven Spielberg character speak for my feelings after this grim part of the tour:
I'm glad that our tour included the Jewish Quarter, Ghetto and Schindler's factory. But it was all very overwhelming.
So we went back to the square to re-discover the beauty of Krakow.
Dining in Krakow, Poland for Three Days
And the beauty of Krakow square extends to the restaurants that line it.
Every night we had a terrific meal sitting outside at a restaurant on the square.
Lisa's dad Jake tried some more perogies…and they STILL weren't anywhere near as good as the one his wife Marlene makes at home.
Lisa and I found awesome keto friendly Polish food like sausages and mixed grill.
Long leisurely dinners with Lisa's parents on Krakow square are a memory that will last a lifetime.
Marlene summed it up for all of us at dinner every night when she would look around, take it all in and say, "It's all so amazing and beautiful. I can't believe I am actually here!"
Day Trip: The Black Madonna of Częstochowa
On our second day in Krakow we took a day trip (pilgrimage, if you will) to The Black Madonna of Częstochowa. That day trip is the topic of a separate post.
A Fond Farewell to Jake and Marlene
Sadly, the end of our time in Krakow was the end of our epic German and Polish adventure with Lisa's parents Jake and Marlene.
Farewell Dinner
During our final dinner on the square in Krakow we re-lived some of the highlights – and lowlights! – of our trip: the flat tire on our way to the Philadelphia airport, our amazing business class flight on Lufthansa, the trips to the dentist in Berlin, German food, Polish food, German beer, Polish beer, shopping for phallic polish pottery, being propositioned by a hookers, learning to pronounce Wroclaw, the Polish tour guide with a fake English accent, the horrors of Auschwitz, Birkenau and the krakow ghetto, the joy of conversations and being together. And on and on.
Hugs, smiles, laughs, tears and kisses.
And Marlene FINALLY tried an Aperol Spritz!!!!!
An Early Flight After Krakow, Poland for Three Days
Jake and Marlene had a 6:15 am flight from Krakow to Frankfurt then on to Philadelphia. Lisa spent a lot of time training them how to make the most of Lufthansa business class seats so we knew they would be alright on the long journey home alone.
We we set alarms for 4:30 am and drove them to the airport.
I dropped Lisa, Jake and Marlene off then went to park the car.
I got into the terminal just in time to wave goodbye to them as they went through fast track security.
Then we tracked their flights all the way home.
Bottom Line – Krakow, Poland for Three Days
Krakow is a beautiful city. And while it's easy and fun to enjoy Krakow, it's also important to understand the darkness that happened there.
Mostly it was a wonderful place to spend time with Jake and Marlene.
But Lisa and I had to get our rental car back to Berlin…and besides, we had a plane to Sofia, Bulgaria to catch!