After spending two days in Berlin eating sausage, drinking German beer and seeing the sights it was time to head to Cottbus, Germany for a day!
Our goal was to break up the drive between Berlin and Wroclaw, Poland by stopping in a quaint little German town for the night.
Cottbus, Germany
Cottbus is a university town and the second-largest city in Brandenburg, Germany. It's about 125 km (78 miles) southeast of Berlin.
A settlement existed in the area as far back as the 10th century.
Cottbus was known for wool in the Middle Ages. Cottbus drapery was exported throughout region.
In 1701 the city became part of the Kingdom of Prussia.
During World War II, the Nazis mounted a robust defense of Cottbus. But it was taken by the Red Army in April of 1945 as part of the Battle of Berlin.
From 1949 until German reunification in 1990, Cottbus was part of the Communist German Democratic Republic (East Germany).
So Cottbus is a little town with a lot of history.
We were excited to check it out!
Getting to Cottbus, Germany for a Day
When we planned this time exploring Germany and Poland with Lisa's parents, we knew we'd need a rental car.
We hoped to do a one-way rental: pick the car up in Berlin and return it in Krakow. But every agency wanted to charge a $1200 one-way fee for that rental.
Except Avis.
Avis had a rate with no one-way fee! So we booked a Mercedes wagon that could fit all 4 of us and our luggage with Avis and planned our onward travel from Krakow.
But when we went to pick the car up in Berlin, the computer added a $1200 one-way fee.
We produced the reservation confirmation that showed no such fee. The agent conferred with her colleague. They told us (rather firmly) nothing could be done. Avis in the US had made a mistake and we would have to pay the $1200 one-way fee.
That would have tripled the price of the rental!! We were stumped.
But then we remembered: WE ARE DIGITAL NOMADS!!! Our plans are never set in stone!
Lisa and I conferred. We decided that rather than paying $1200 and going on from Krakow we would simply completely change our plans! We would drive the car back to Berlin after Lisa's parents flew home from Krakow.
No one-way fee, no problem!
So we simply extended the rental by a couple of days and changed our plans!
Digital nomadism ROCKS!
The Mercedes we rented is a pretty complex machine that took a while to figure out (I watched a few YouTube videos to master the nav system). It was a lovely car to have for 10 days!
Where to Stay for One Day in Cottbus, Germany
There are only a handful of hotels in Cottbus.
We chose the Altstadthotel Am Theater because we were able to get two adjacent suites on the ground floor for less than a 2-bedroom homestay. Plus, parking and breakfast are included in the rate.
It's a goregeous old hotel. And walking distance from the star of Cottbus: the Altmarkt.
True to form, the first thing Jake did after we checked in was find some golf to watch on TV before we headed out the the Altmarkt and dinner!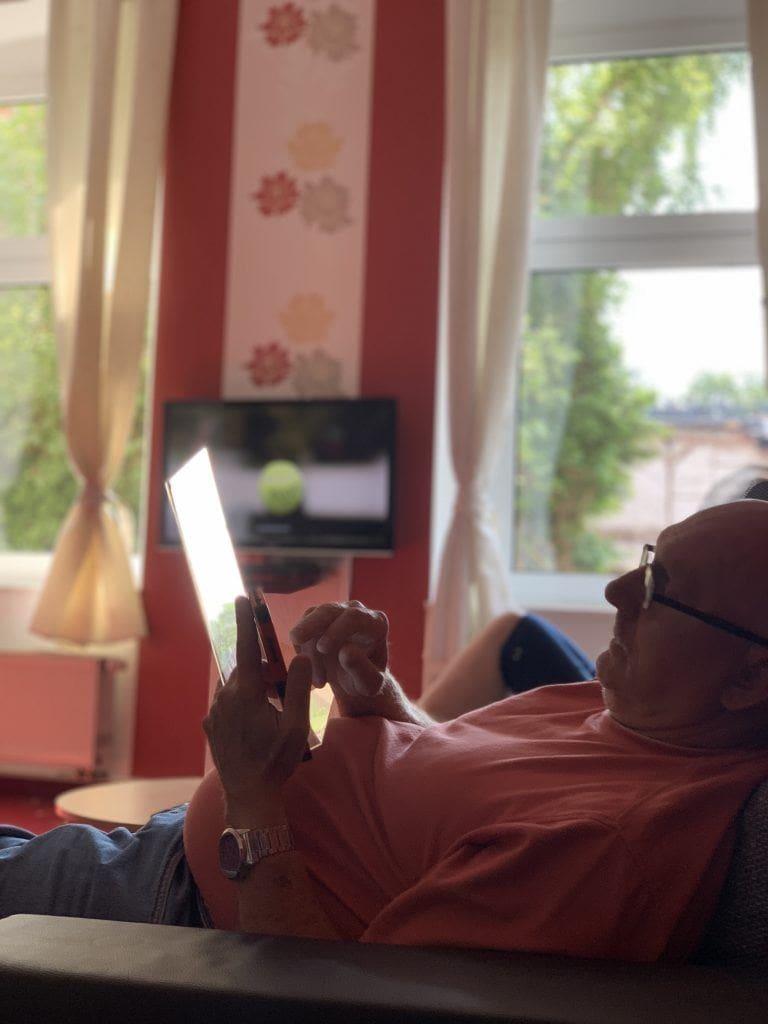 Spremberger Street and Spremberger Tower
As dinnertime approached we set out to explore the center of old Cottbus.
We made our way to Spremberger Straße (Street), which is a wide and lovely pedestrian street that leads from Spremberger Tower to the Altmarkt in the gorgeous center of Cottbus.
The bones of Spremberger Tower date back to the 13th century. But the tower that exists today was mostly renovated in the 20th century.
The 300 meter-long Spremberger Straße has existed since the founding of the city as it was originally part of a trade route from Bohemia and Saxony to Frankfurt.
Altmarkt
At the end of Spremberger Straße is the jewel of Cottbus: the Cottbus Altmarkt.
The city's old marketplace square was established in the 1200s at the intersection of three ancient trading routes.
Today the Altmarkt (Old Market) is home all kinds of small shops. Historic buildings with colorful facades surround the square.
It's like someone took a postcard of 'quaint German village' and brought it to life!
There are several restaurants lining the square and each has outdoor seating in-season.
Brau & Bistro
We chose to have dinner at Brau & Bistro in the Altmarkt.
It's a bistro and beer garden serving regional German cuisine.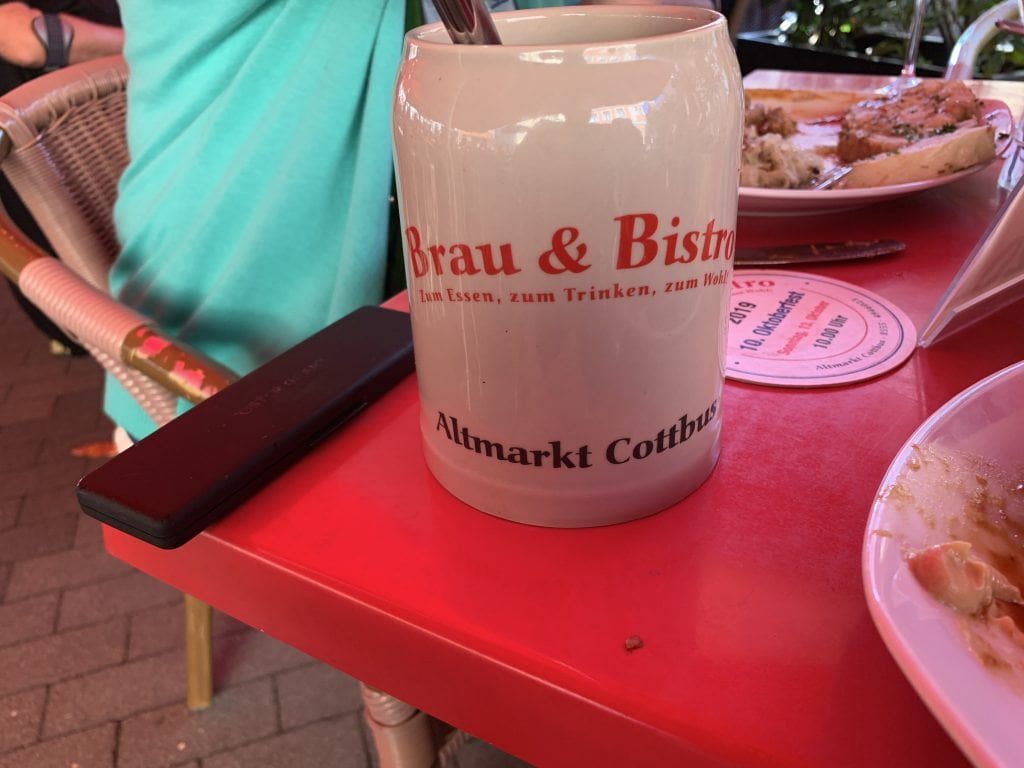 I had the most incredible keto friendly pork knuckle. It was so good!
Although Jake and I continued our non-keto sampling of various German beer!
Meanwhile, Lisa indulged in some non-keto Aperol Spritz(es!) after her very keto pork dish.
Jake's Scooter
Lisa's dad Jake has been trying to convince Lisa's mom Marlene that he needs a scooter.
He's seen pictures from our travels in Asia:
And now Jake thinks having one at home would be a great way to get around.
Marlene disagrees. Strongly.
But Jake's scooter was a fun topic of conversation the entire trip. We talked about renting one, buying one or maybe adopting one from a scooter shelter.
But for all the talk, sadly for Jake, this is as close as he got to having a scooter.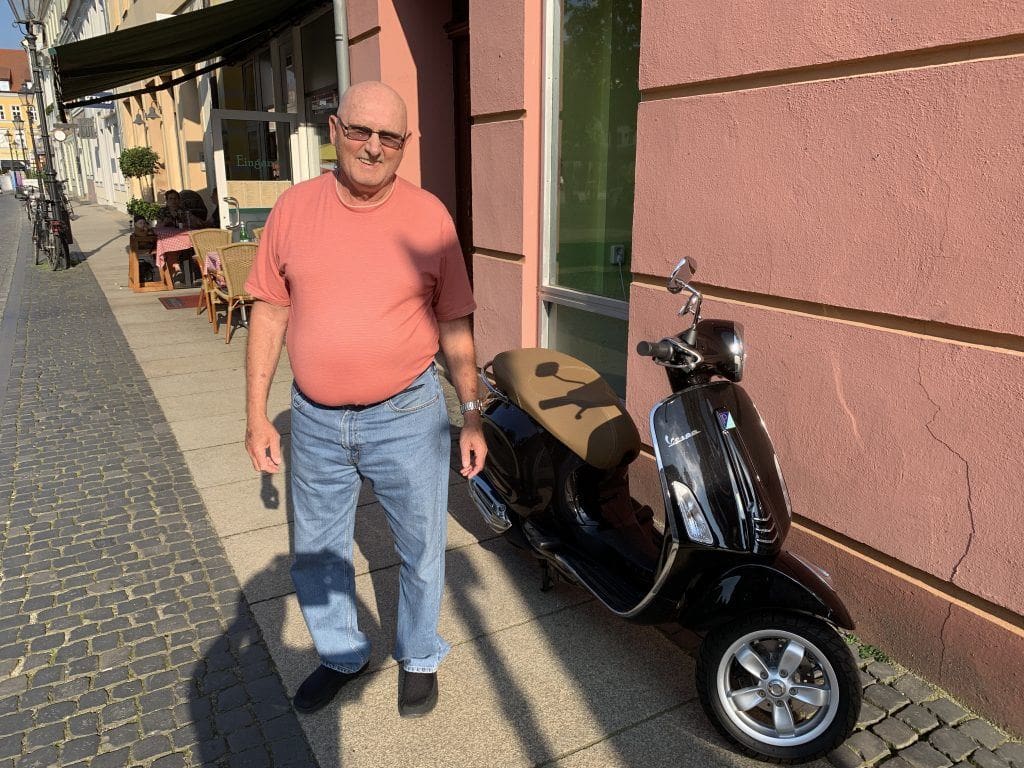 Happy wife, happy life. 🙂
Bottom Line – Cottbus, Germany for a Day
We really enjoyed our day and evening exploring and having dinner in Cottbus. It's a beautiful little German town. And we felt like we got to dig a little deeper into Germany than the big cities.
Cottbus is well worth a visit.
In fact, we liked it so much that on our drive back to Berlin from Krakow to return our rental car we stopped in Cottbus again for the night…and ate at Bistro & Brau again!
We loved it that much!
But after a day in night in Cottbus Marlene had a hankering to check out some Polish pottery. So it was time to move on!